More house lot allottees have been given access to their lots as infrastructural works are progressing in schemes across the country.
Earlier on Tuesday, the first batch of soon-to-be residents of Meten-Meer-Zorg Phase One, West Coast Demerara (WCD), was guided by surveyors of the Central Housing and Planning Authority (CH&PA) on a land identification exercise.
For one allottee, Zenol Aguilar, being able to finally see her land is a defining moment as she gears up to start construction. She related that while the wait for access to the house lot was a little lengthy, it was all worth it since there is not much preparation to be done before construction.
"I'm happy and excited to be able to start this process," Aguilar expressed.
Meanwhile, as works continue in the scheme on the other lots, persons who have been allocated will be called in to identify their respective lots.
At Meten-Meer-Zorg, some $967 million is being spent on infrastructural works, where 665 lots have been allocated. The first phase of infrastructural works includes access roads, bridges, and drainage works.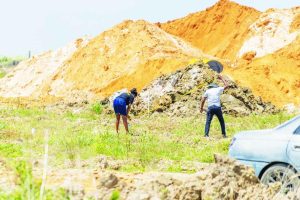 Meanwhile, the first 100 low-income homes are already underway in Leonora, Region Three. The 20 x 30 (625 square feet) two-bedroom flat units will be constructed at a cost of $5.5 million each.
As the region remains poised for massive developments, other large-scale infrastructural projects, such as the $11 billion four-lane Schoonord to Crane four-lane highway, will open up opportunities for residential and commercial development.
So far, the Government has allocated over 20,000 house lots over the past two years countrywide. In robustly developing new areas and schemes, the Housing and Water Ministry and the CH&PA are on track to fulfil the manifesto promise of 50,000 house lots in five years.