By Andrew Carmichael
A Tain, Corentyne, Region Six (East Berbice-Corentyne) family is in a frantic search for a man who disappeared some two weeks ago.
The missing man is 60-year-old Samuel Pargass of Sixth Street, Tain Settlement.
Today will make it 14 days since he went missing. According to the missing man's wife, the retired cane harvester walked out of the yard two weeks ago.
"After he take breakfast, he put on his cap and slippers and he gone," Mrs Pargass said.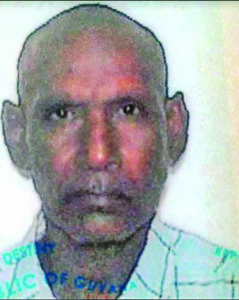 She said she warned him that the sun was hot and it might be better if he did not go out at that time.
"He still gone, he ready and he raise he hand an gee mi and gone," the woman said.
She related that she later went out and was expecting to find her husband at home when she returned; however, he did not return.
That evening, the search started and the search party went West up to the village of Albion and to Manchester in the east. "He would normally go and walk and come home back. We check all dem family who he does go an walk by. Sometime when he come back an ah ask he where he been, he would say he went by street side wid dem boys," she explained.
Noting that her husband did consume alcohol, the 59-year-old woman said on many occasions he would go fishing and, in 2014, he went missing for one night. Then, she said, there was a chikungunya outbreak in Guyana and her husband got an attack while fishing in the backdam and could not walk to get home. He was rescued the following day from a swamp.
Pargass was last seen clad in a lilac long-sleeve shirt, short pants and a pair of slippers, reportedly heading towards the Upper Corentyne area on foot.
Mrs Pargass, who has lived with her husband since 1980, explained that the couple, along with a niece, lived in the house. Three weeks before the disappearance of Pargass, the niece left for overseas and was expected back the very day he went missing.
Mrs Pargass further related that in recent times, her husband would sit without speaking unless spoken to. "If I ask he something, he would answer, but he don't say anything to me."
The distraught woman said during the past year she took him to see a psychiatrist. "The doctor say everything okay and give him some medication…  I can't say if he has lost his mind and don't know where he is."
Two days after the disappearance of Pargass, a man reported seeing him standing in front of a business place at Number 35 Village. However, the family received this information the following day and when they arrived, he was not there.
Persons have also reportedly seen him at Number 55 Village, but that was one week ago. "We look all over. We look on all dem beach, backdam and we asking people in dem village till up the Corentyne."
Persons who may have information on the disappearance of Pargass should call his wife on 337-1619, 612-8973 or 650-4935.