By Andrew Carmichael
Corentyne fisherman Raywatram Mooloo, also known as 'Adesh' and 'Cow Curry', was on Friday remanded by Magistrate Charlyn Artiga at the Number 51 Village Magistrate's Court for allegedly inflicting on his wife injuries that caused her death.
The charge detailed that the 27-year-old of Lot 36 Number 58 Village, Corentyne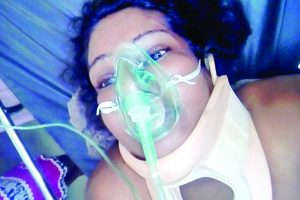 Berbice had, on May 24, used an iron rod and a piece of wood to inflict on 34-year-old Gomattie Ramsingh injuries which caused her death on May 26. It has been reported that, among other things, he hit the woman with the iron rod in her head.
The unrepresented Mooloo was not required to plead to the charge, and has been remanded to prison until June 30, when his next court appearance would be for a police progress report on the file.
Before dying at the Georgetown Public Hospital (GPHC) of the injuries she had sustained, Ramsingh had been video recorded recounting the incident, wherein she had alleged that Mooloo had dragged her by her hair down a flight of stairs and around the yard.
In the video recording, she had claimed that he had brutalized her for taking away an illegal drug which he had purchased, and for not giving him money on demand.
A post-mortem examination conducted on Ramsingh's body has indicated that her death was due to blunt force trauma sustained to the head, besides spinal and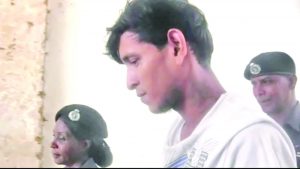 other internal injuries.
The accused had gone into hiding following the woman's death, but turned himself in after police had arrested several of his family members.
Police had, on Wednesday last, gone to one of the suspect's relatives after receiving information that he was hiding there.
As the officers approached the home, the suspect was seen running into the backlands. But after several family members had been arrested, Mooloo turned up at the Central Police Station in New Amsterdam two hours later, in company of Attorney-at-law Mursaline Bacchus.