– says had written to LGC without a response
Corriverton Mayor Winston Robert on Tuesday hired a tractor operator without consulting with the Local Government Commission (LGC), as is mandated.
The Municipality has for some time been waiting on the Commission to employ a tractor operator and a revenue clerk.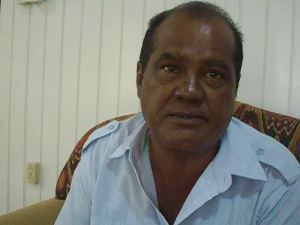 According to Mayor Roberts, the Municipality of Corriverton is being stifled by the LGC. Several letters have been dispatched to the Commission to have the vacancies filed with urgency, but there was no response.
"We are waiting on them to come and do the interviews. They say that we cannot do the interviews just like that. Today [Tuesday] I took it upon myself with the councillors to go ahead and employ a tractor operator. Whereby, we wrote a letter to them informing them of our actions with the signature of all the councillors. We had to do it," the Mayor noted.
Residents say the Municipality has not been collecting solid waste in a timely manner, which has led to a pile-up of garbage in residential areas.
"We only have one operator and we are supposed to have two. We have our daily work in the market. We have to clean the fishery. So, I could not wait any longer on the Local Government Commission to come and make that decision for us. I took the chance off of my own. I am willing for them to prosecute me at any time for my decision," the Mayor told this publication on Tuesday.
When asked for a comment, LGC Head Mortimer Mingo declined.
Mayor Roberts related that for the past week, the Municipality has only had one operator, thus, making it very difficult for it to properly manage solid waste.
"He is a senior officer who will come off of the job in October. He has a backlog of 46 days leave and he chose to take the leave; that is within his rights but then we cannot sit and wait on the Local Government Commission to come and interview applicants and then
to wait five or six months for them to have the person employed. Who will pick up our garbage? Who will clean the fishery? What will become of our community? So, I went ahead with what I had to do," the town's Mayor boldly stated.
Mayor Roberts highlighted that before the employment on Tuesday, he sought the advice on the Council but more so, he stressed that the reason for hiring the operator was to ensure that the town remains clean.