…MP, PNC affiliates given house, office by RDC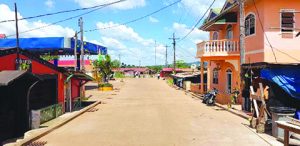 Councillors of Region Eight (Potaro-Siparuni) Regional Democratic Council (RDC) are accusing the Government of micromanaging and politicising the region's administrative office. Councillors on Wednesday claimed that the Government Member of Parliament and the People's National Congress (PNC) office are giving instructions on how the office should be managed and sought into the internal affairs of its operations.
People's Progressive Party (PPP) Councillor Davo Ramphal, during an interview with Guyana Times on Wednesday, expressed dissatisfaction with the way in which the RDC is being managed. He alleged that there is gross discrimination, victimisation and political interference ongoing at the RDC.
Ramphal disclosed that PNC Member of Parliament, Rajkumarie Bancroft, has an office within the RDC and also was provided with a house within the RDC's compound, although she resides in Georgetown. This, he said, is unfair since some of the Council's workers are forced to live at the region's guest house.
Further, he added that the Assistant Regional Executive Officer (AREO), who is also the PNC Chairperson for Region Eight, also has a permanent office at the council, whereby, his office is supposed to be at Sub-Region One, North Pakaraimas.
"They are using these offices to discriminate workers, to tell the accountants who to pay and who not to pay and who should and should not get contracts. They are taking instructions from PNC and Bulkan and using the regional office to conduct their vindictive PNC work and this is not right and it's unfair to the other staff and councillors," he stated.
Ramphal added that this situation is in blatant disregard for the law, which governs these entities.
Meanwhile, just recently, Communities Minister Ronald Bulkan cautioned those elected to serve on the Regional and Neighbourhood Democratic Councils to remove politics from the management of their respective communities.
He was at the time addressing similar concerns at a community meeting at Region Two (Pomeroon/Supenaam).
Similar reports have been emanating from the mining town over the recent weeks. Only a few weeks ago, the PPP Councillor of that region and other party supporters who operate businesses in the mining town of Mahdia accused the regional administration of victimisation and discrimination against them, owing to their party affiliation.
Other party supporters also accused the regional authorities of taking away their contracts and giving same to A Partnership for National Unity/Alliance for Change (APNU/AFC) supporters. This, they say, is unfair as everyone irrespective of which party they support should be allowed to earn their daily bread.
Councillor Ramphal had stated in a previous interview that the PNC controlled RDC regional officials were deliberately stifling PPP/C supporters by encouraging residents to boycott businesses owned by PPP supporters. He noted that in one case, an AFC Councillor (name withheld) was heard in a recording threatening to pull support if any PPP/C supporters were awarded any contracts or benefited in any way from the region.
Other business owners had also expressed their dissatisfaction with treatment they have been receiving from officials in the region who continue to encourage supporters to boycott "PPP" businesses.
Meanwhile, days after those reports were highlighted, the council moved to terminate the services of the Mahdia Town Clerk with immediate effect. The Town Clerk, Hakeem Wong, a 21-year-old, in an interview with this publication had related that he received the termination letter via e-mail.
Wong said he was surprised to receive such a letter since he has never had any issues with the Council and was executing his duties diligently.