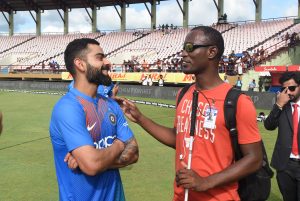 "It was a massive hit by Ramnaresh Sarwan and it has gone miles out of the Providence Stadium for six. This is a colossal shot by the former West Indian player!"
Those are some of the words that Leroy Phillips hopes to utter one day, from the commentary box at the Guyana National Stadium, Providence as he lives out his dream of being a part of the broadcast team for a cricket match.
However, if you had met Leroy some 14 years ago, this dream would be farfetched given that the visually impaired athlete did not even like the sport of cricket at the time.
"I never liked cricket to begin with," Phillips admitted.
Back in 2006, thanks to two friends who Phillips identified as Asif Khan and Vishal Mohabir, the now radio broadcaster was introduced to 'Blind Cricket', while at the St. Rose's High School. During this time, although Phillips began to develop an affection for the sport, there was still one aspect of it that he did not appreciate as much.
"I did hear my uncles listening to it before and in 2006 and it really used to sound pretty boring, with the English and Australian commentary," Phillips explained.
While One Day Internationals and Test Matches contributed to his appreciation for the sport, the one format and event that really got him excited about cricket was the Hero Caribbean Premier League (CPL).
"That was quite an experience that I'll never forget," Phillips reminisced, as he began to tell the story of his fondest CPL memory.
It was the inaugural year of CPL, in 2013, Phillips was seated in the lower parts of the Orange stand, enjoying one of the Guyana Amazon Warrior's home games. Former West Indian batsman, Ramnaresh Sarwan was at the crease and being a visually impaired person, all Phillips could recall was hearing shouts and screams from those around him.
"Before I knew it a ball landed so painfully on my right shoulder, luckily it didn't hit anywhere else. But I discovered afterwards that it was Ramnaresh Sarwan who hit a six right into that stand," he fondly recollected.
Phillips told of the different vibe that CPL brought to cricket, the added excitement and the thrill that atmosphere held. For this reason and more, he noticed a shift in what valued and enjoyed most about the sport.
Phillips who is an advocate for persons living with disabilities especially those that are visually impaired also plays Blind Cricket for Guyana and West Indies and even participated in a World Cup in 2017 in India.
"I started enjoying what I previously hated, which is the commentary on radio and television. Just recently, during the India versus West Indies series I listened to commentary from guys like Barry Wilkinson and I'm like you know what one day I'd love to go in the box and work with those guys," he expressed.
Leroy is a huge fan of India's cricket and their players especially M.S. Dhoni, Rohit Sharma and Virat Kohli and will never forget the end of the West Indies versus India T20 International match at Providence when he met and chatted with Kohli in the full view of the public and local and international press.
Maybe it was that faithful hit from Sarwan's shot into the crowd, or maybe it was the fact that he was now a part of the game; whichever reason it is Leroy Phillips now has another passion to pursue and it is all thanks to the Biggest party in sport.
"It's an exciting thing to do and I hope that someday soon I'll get the chance to sit behind that mic in the studio. It would be a great start to do it with CPL."