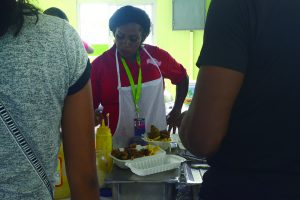 Patrons are often advised to leave their food and drinks at home when going to watch cricket at the National Stadium, Providence but it's not because they want you to go hungry while enjoying a game of cricket. The advice comes as a caution so you wouldn't miss out on the slice of heaven that is often displayed in the concession sections of the Stadium.
Have you ever heard of the perfect food to eat when watching cricket? Is it cricket and cook up? No, maybe you'll fall asleep just after the first innings. Is it chicken curry and cricket? Then maybe you'll stain you favorite Amazon Warriors shirt? Is it a good barbeque and cricket, or perhaps a hotdog? If I could have my way; I'd have them all and a tall glass juice, that's how you enjoy a cricket game. And the concession providers at the National Stadium Providence ensure that you have that and much more to choose from when your stomach begins to growl louder that the sound of bat on ball before a massive six.
If you're going to watch the game from the Red stands, then the first thing you'll see upon entry is the Hot and Spicy booth. There Guyanese cricket fans can come close to their favourite fried chicken, of course with a Guyanese twist. Or if your appetite isn't calling for a serving of chicken and chips, you can feel just at home with a wide variety of creole foods, ranging from burgers, pastries, fired rice, roti and curry, chowmein or even a hot cook up.
A few paces down, it's everything hot dogs at Natasha's hotdog stand, but you can also pick up a cold beverage. However, this isn't the only option for that particular snack, if you are a hot dog lover. Under the green stand, one can find the Big Kahuna Hot-dog outlet. Ranging from regular sized dogs to foot long delicacies, this stop on the food train has enough to keep you filled for 40 overs.
Should you choose to enjoy the match from the electric grass mound, then you cannot enter without getting a whiff of the mouthwatering aroma of bar-b-que chicken. NP/ The Garage ensures that their meals are hot and fresh every time, with the grill out back. Additionally, there is a wide variety of sides that you can pair your bar-b-que with, for instance cook-up, special rices, or even fries.
Whether or not you're still in the mood for some chicken, fast food giants Church's Chicken is there to serve you some flaming crispy pieces. If you're not in the mood for any of those, there are still a number of other outlets who are ready to quell the hungry of exhilarated fans.
So leave the picnic baskets home and bring your flags and pocket books instead, because there's always plenty to eat at Providence.
Photos: Hot and Spicy
Caption:  A Hot and Spicy team member prepares a delectable serving of chicken and chips at the National Stadium
Big Kahuna
Caption: According to Big Kahuna, cricket is the nest atmosphere for a Hot Dog.