…since passing of founder and horse-racing stalwart Marcel Crawford, SC
The Alness race track, now renamed the Crawford Memorial Turf Club and Sport Facility, was founded in 1975; Christmas Day will make six years since the passing of sports enthusiast and horsing-racing stalwart Senior Counsel Marcel Crawford.
The Crawford Memorial Turf Club, over the years, has continued to impress as it hosts some of the most highly-anticipated horse-racing meets in Guyana, which features some of Guyana's top horses.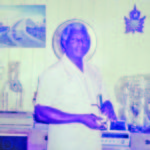 The second of seven children, Crawford was born on October 13, 1936 at Salton Village (Little Alness) on the Corentyne.
Six years after his passing, Crawford's name continues to be a household one in the Ancient County of Berbice as he is remembered for being a successful lawyer, a most generous person, a former cycling champion and a horse-racing aficionado. Crawford was always a high-flyer; some of his achievements were attaining the position of Senior Counsel, he was also one of the top performers in his school not only academically but athletically as he set out for a career in cycling in 1956; in 1960, he was selected to represent Guyana in Rome at the Olympics but his dreams were cut short as there were no financial measures set in place for him to realise them. Following the disappointment, he moved abroad to England to study medicine, but was introduced to law by former Chancellor of the Judiciary, Justice Cecil Kennard. From there on, his career as a lawyer began to take shape. He was also involved in horse racing in Guyana, as the Crawford family has been racing horses for the past 94 years, and when he went abroad, he continued that interest. The many successes Crawford Memorial Turf Club is reaping currently stem from this.
Marcel Crawford's dream continues to live on in his son Marcel Crawford Jr (fourth generation), who is the current President of the Crawford Memorial Turf Club.
In an interview with Guyana Times Sport, the Club President thanked all his sponsors for their continued support namely, Banks DIH, who has been the premier sponsor since 1975; Kanhai's Electrical on Regent Street, Curtains and Drapery Designs, Jumbo Jet Auto Sales, Candy Corner, Attorney-at-Law Poonai, Poonai Pharmacy of Rose Hall, Guyana Times for its constant support among others, who have all continued to support his father's vision throughout the years. He also extended his gratitude to Club Secretary Compton Sancho for his unwavering support in the last six years.
Even though Crawford has seen the lack of participation of big horses at his track, the Turf Club has rallied through to become one of the many top clubs in the country.