While millions of dollars continue to be pumped into the local security sector, former Home Affairs Minister, Clement Rohee has said that the coalition Government is yet to deliver on its political campaign promise to reduce crime and keep Guyana safe.
Rohee roasted Government for what he described as a weak performance in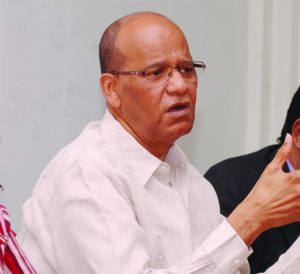 relation to the proper management of the security sector, drawing reference to the recent prison unrest and several other issues which have plagued the country in recent times.
Rohee is of the firm view that crime is still 'out of control,' even though the current Government boasts one of the largest teams of former national security experts. These include former senior ranking Guyana Police Force and Guyana Defence Force officials.
"When the Finance Minister (Winston Jordan) presented the Budget in 2016 for 2017, the security sector was allocated $29.1 billion and Jordan had said that this would have restored public confidence in the security sector," the former Minister recalled.
However, Rohee asserted that the recent prison unrest tells a different story. According to him, while there were prison breaks under the People's Progressive Party (PPP) Administration, it was never escalated to the magnitude of the Georgetown prison unrest.
Rohee said, "I can't imagine how much it will measure on the political ritchter scale, if that was at all possible. But what we do know, nothing of that nature ever occurred under the PPP; even though we were faced with similar challenges as the new Administration is faced with when they came into office."
Overcrowding in the local prison system is nothing new, Rohee argued, while adding that it has been an issue from time immemorial. "When we got into Government in 1992, the prisons were overcrowded. For the years we've been in Government, the prison remained overcrowded. And the A Partnership for National Unity/Alliance for Change came in and inherited an overcrowded prison."
But the former Minister said the difference, however, is that the PPP had put certain mechanisms in place to deal with attendant problems and challenges that they knew could have arisen in a prison, which had huge amount of overcrowding for a number of years.
He recalled that under the PPP, the Parole Board was fully constituted and active. Apart from that, the body met regularly and carried out its functions effectively. Further, Rohee said during holiday periods, particularly at Christmas, the prisons would submit a list with the names of persons, who should be considered for remissions for petty criminal offenders, among other measures.
As a result of this prison unrest, Parliament recently approved $756.1 million, which now adds to the already $29.1 billion, which was allocated to the security sector in this year's budget. "So, we don't only have central damage, we have a financial cost to this situation… The fact of the matter is, apart from the Government foisting a bill, taxpayers now have to carry an additional burden."
Meanwhile, Rohee also recalled statements made by Minister of State Joseph Harmon, where he gave his commitment that drug trafficking will be something of the past. The former Minister said the situation has not improved in any significant way and maintained that Guyana is still a major transshipment point for drugs to be shipped in North America.
"We do not accept this because only recently a huge amount of drugs was discovered in the Pomeroon River, in gas cylinders. Huge amounts are also still being exported from CJIA (Cheddi Jagan International Airport) and firearms are being legally imported through barrels in our ports. And we know the link between drugs and firearms," he further explained.
While the former Minister admitted that the Opposition is not proud of the issues facing the country in relation to crime and security, Rohee said these issues could be addressed if the coalition Government becomes more effective in its management of the local security sector.
The Opposition has long criticised Government for failing to implement stringent and effective crime-fighting strategies. They had described Public Security Minister Khemraj Ramjattan's performance as "blundering incompetence" and said the Police Force is paralysed by mixed signals from President David Granger and other members of the executive, which seems to favour criminals.