Forty-three years later, 11 Guyanese, who died during the Cubana Air tragedy, were remembered on Sunday.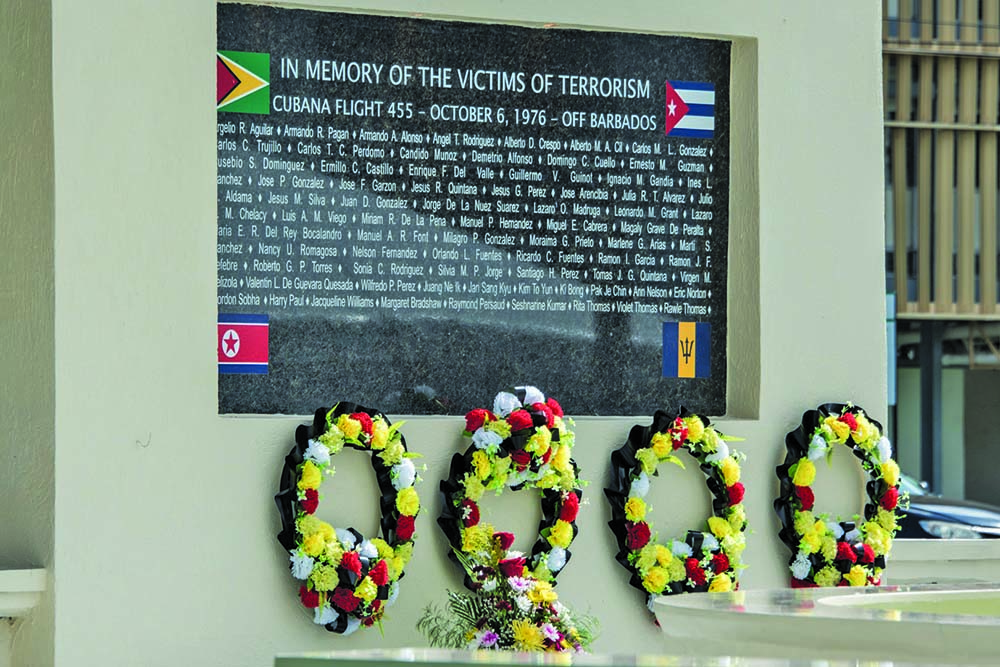 The 11 were among 73 passengers and crew members who were killed after two bombs exploded on a Cubana Airline flight off the coast of Barbados back in 1976.
A remembrance ceremony was held at the Cubana Air Tragedy Monument Site at the University of Guyana's Turkeyen Campus.
In his remarks, President David Granger said that a disaster is a natural catastrophe. "This act was a deliberate, premeditated crime, causing great suffering, distress and destruction and must be described as a tragedy."
The tragic incident is remembered by the placement of wreaths and a reflection of that unfortunate day.
The Guyanese who were killed included: Seshnarine Kumar, 18; Ann Nelson, 18; Eric Norton, 18; Rawle Thomas, 18; and Jacqueline Williams, 19, all students on their way to study medicine and engineering in Cuba. Others who perished were relatives Violet and Rita Thomas, nine-year-old Sabrina Harrypaul, Margaret Bradshaw, Raymond Persaud, and economist Gordon Sobha.
Among the other victims were five Koreans and 57 Cubans, including 24 members of the 1975 Cuban national fencing team, who were returning home after winning gold medals at the Central American and Caribbean Championship games.
Investigations had revealed that CIA-linked anti-Castro Cuban exiles conspired with members of the Venezuela Secret Police to bomb the Cuban aircraft in protest of Castro's dictatorial policies in Cuba.
Four men, who had joined the plane in Trinidad and disembarked the aircraft in Barbados, were subsequently arrested and tried in Venezuela in connection with the bombing and murder of 73 persons. Two of them were sentenced to 20 years in prison, another was acquitted and subsequently moved to the United States, while the other escaped from Venezuela and fled to the United States.