The Mayor and City Council (M&CC) was faced with a garbage pile-up situation in central Georgetown as a result of the damaged Demerara Harbour Bridge (DHB).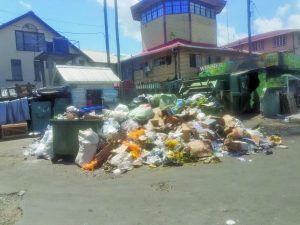 Owing to the bridge repairs, which have been ongoing since Monday, the major contract garbage collector, Pooran Disposal, is presently unable to provide services to the city since the company is headquartered on West Coast Demerara and utilises the Demerara Harbour Bridge.
This, coupled with the illegal disposal of garbage by businesses, vendors, and citizens in central Georgetown, is the cause of a massive build-up of waste throughout the city.
On Tuesday, the garbage-collecting company was scheduled to use pontoons to remove the waste; however, this proved futile.
According to Mayor Ubraj Narine, M&CC is presently utilising available resources to assist the situation.
The Mayor has since called on persons in central Georgetown and other affected areas to keep the waste on their premises until such time that the Council is able to proceed with its normal scheduling.
"I beg the public to bear with us, this is something that we did not expect and this is something that we did not prepare for but we are working to get this matter resolved as soon as possible… We are currently seeking the participation of our citizens to not dump anywhere around our city and to assist us where possible to ensure that our city continues to be free of litter… I call on the business entities to please desist from dumping garbage illegally because that will cause more chaos in the city at this point of time, garbage have reduce tremulously," Narine pleaded.
Director of Solid Waste Management, Walter Narine cautioned the citizens against dumping their garbage on the streets.
The Demerara Harbour Bridge was closed to traffic early Monday morning after a tug and a barge slammed into the bridge. The bridge was reopened to light traffic on Tuesday afternoon.