The Guyana Prison Service on Tuesday received a speed boat which will aid in the transportation of inmates from the Mazaruni Prison in Region Seven (Cuyuni-Mazaruni). At the handing over ceremony at the Guyana National Industrial Corporation (GNIC) wharf on Lombard Street, Georgetown, Director of Prisons, Gladwin Samuels told the media that the boat will play a critical role in transporting prisoners to and from the prison, especially for medical attention. GNIC constructed the boat which cost just over $10.9 million.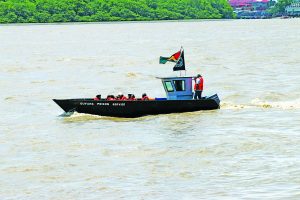 Meanwhile, Samuels added that with the addition of the vessel to the Mazaruni Prison, it will significantly boost the capacity and capabilities as it relates to responding to emergencies. "There are times as well when we have high profile prisoners to escort to the Hospital and we would like to do so as quickly as possible," Samuels said.
He added that the vessel will be able to facilitate two captains and 12 passengers, noting that he is looking forward to more boats being added to the present fleet of two.
Samuels said the project was divided into two lots, which saw $5.5 million being spent to construct the vessel and over $1 million being spent to procure two 200 horse power engines in lots one and two respectively.
Meanwhile, the Chief Executive Officer (CEO) of GNIC, Clinton Williams explained how grateful the company is to have been given the opportunity to construct the vessel, as it was a perfect chance to show those in the oil and gas sector that Guyanese are competent in this regard.
"These days, they are talking a lot about local content in the oil and gas sector and marine transportation is critical in relation to the needs that are required by this particular organisation and the various users. We want to signal to the oil companies that they have capability in Guyana and capacity to deliver in this regard," Williams pointed out.
Following the July 2017 jailbreak and fire which destroyed the Camp Street Prison, Government revealed plans to expand the Mazaruni Prison – a project which was expected to cost some $2 billion but aimed to streamline the local prison system and most importantly, reduce overcrowding.
Samuels noted that phase one of the project is on stream and should be completed before the end of the year. This, when completed, will facilitate an extra 200 prisoners at the facility.