– highest since its existence
Entering into its 57th year of existence, the University of Guyana (UG) has recorded an estimated 4000 student enrolment for the new academic 2019/2020— which is the largest since its establishment.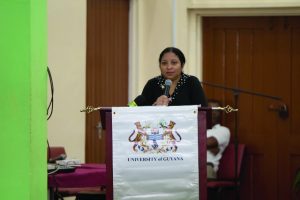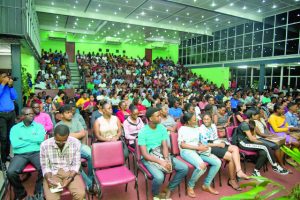 It is against this backdrop that the new batch of students were formally welcomed into the tertiary educational facility during a simple but significant ceremonial opening on Monday, as they embark to pursue advanced studies.
The students were welcomed to the facility by the recitation of poems and the singing of songs, but most importantly, they were informed about the significance of attaining a university education.
Much emphasis was placed upon same by Deputy Vice-Chancellor, Professor Paloma Mohamed during her keynote address to the University's newcomers.
"A university education will set you immediately from others who have not had this opportunity, a university education is the first of all life changing indicators and this confers mobility and lifelong opportunities that are not available to others, a university education really is an opportunity because for every one of you sitting there, there's an average of about four others who applied and did not gain entry, for several reasons," the Professor said.
On this note, Mohammed charged the students to take advantage of the opportunities offered to them, given the sacrifices of others which make the existence of the University possible.
"Your university education is funded in large parts by the people of this country, many of those people on whose backs we stand will never see the inside of a university. They work hard, they pay their tax and those taxes come to us, and so for that reason, we must take every opportunity, we must suck up iota of knowledge. And we must never forget upon whose back-breaking toil we receive our mark of distinction," she noted.
Held at the George Walcott Lecture Theatre (GWLT), the ceremonial opening was part of a packed week of orientation activities for those pursuing their tertiary education.