City Magistrate Leron Daly issued a restraining order on Monday in which she compelled a well-known Georgetown businessman to stay away from his 25-year-old daughter who recently broke her silence about him abusing her for years. The businessman's lawyer, Bernard Da Silva, informed that his client has been ordered to stay 1000 feet away from his daughter.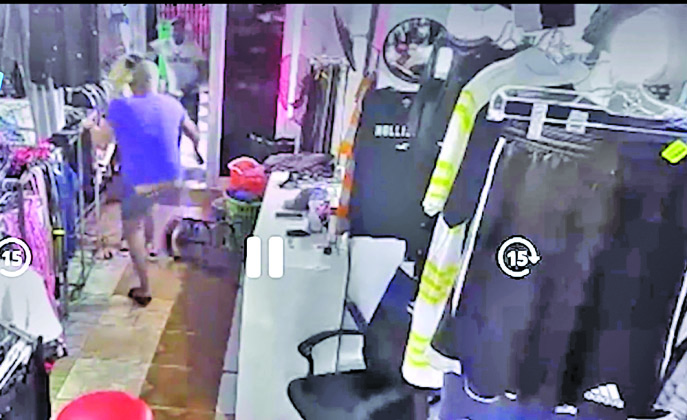 According to Da Silva, his client has also been ordered to give the young lady all of her personal belongings. The restraining order, the lawyer noted, "has been made permanent".
Over the weekend, the Guyana Police Force said that the businessman was charged earlier this month with inflicting grievous bodily harm on his daughter and also threatening to shoot her.
After pleaded not guilty to the charges, he was granted $400,000 bail. He has to return to court on May 6, for report.
The woman came forward with her plight during an interview with local reporter Leroy Smith after CCTV footage from one of her father's business places showed a man, believed to be him, kicking, slapping, and punching at a female believed to be her.
During a subsequent interview with a social media commentator, the businessman claimed that the video recording was not what it seems. But he, however, did not deny that he was the person seen stomping, kicking, cuffing, and slapping a young woman in his Georgetown store.
The girl alleges that the last time she was assaulted was on March 25. She made a report to the Police on March 28 and her father was arrested three days after.
During her interview, the woman detailed the years of abuse meted out to members of her household, including her, by her father. She also told of how she planned her escape while her father was out of town. Last week, too, the businessman's firearms were seized by the Police.
Unprofessional handling
Over the weekend, the Guyana Police Force announced that its Office of Professional Responsibility (OPR) is currently investigating the alleged unprofessional handling of the woman's report by ranks from the Kitty Police Station in Georgetown.
The OPR investigation will ascertain when the report was made and what actions were taken against the alleged perpetrator who is a popular businessman.
The investigations were launched following the circulation of a video on social media where the businessman allegedly assaulted and allegedly threatened to shoot his daughter.
The OPR has launched an investigation to determine whether all the Standing Operating Procedures (SOPs) were followed by the investigating ranks.
"We have to listen"
Human Services and Social Security Minister, Dr Vindhya Persaud has condemned the businessman's alleged actions. Among other things, she said, "The worst thing anyone can do is to justify abuse, violence, and just plain cruelty – no one deserves that no matter what."
"I have always maintained that when someone reports abuse – we have to listen … and yes, take action, which includes investigation, protection, shelter, counselling and offering legal recourse, whatever is required to support that person, but first we have to listen, so they get the courage to speak and report before it's too late!" the Minister added.
Dr Persaud said that the young woman made a report to the 914 hotline and is getting full support and help through the Survivor's Advocate Programme.