Global health and security service firm International SOS has made another sterling donation to the Demerara Cricket Club (DCC). The Queenstown, Georgetown-based club is now the recipient of a spanking new lawn-mower and a grass cutter to aid in the maintenance of the club's facilities.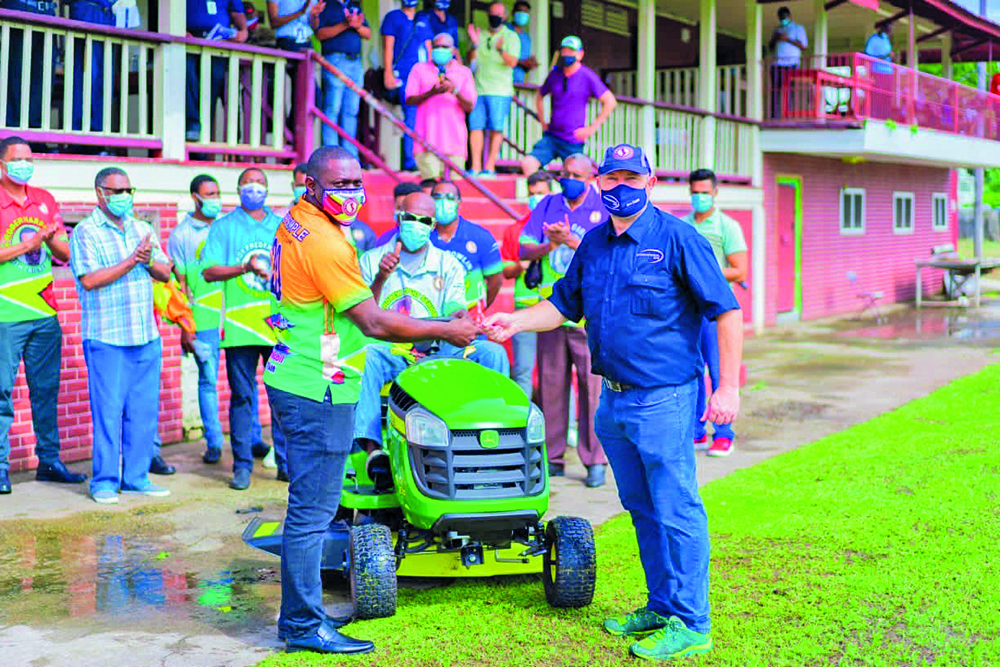 The International SOS company also handed out materials to ensure the club receives a much-needed facelift to usher in the anticipated return of cricket, which was forced into a hiatus due to COVID-19 pandemic.
The donation is the second instance International SOS has extended benevolence to the club.
In explaining the company's interest in DCC, Project Manager for International SOS (Guyana), Mark Jackson, said the executives of the company were drawn to the DCC's rich cricketing history and was eager to be a part of its future.
"International SOS chose the Demerara Cricket Club (DCC) two years ago to partner with, and it's at the director level that they take a very special interest in this club for a number of reasons. One is that they recognise that youth cricket will be where it goes in the future for Guyana," Jackson explained.
He added: "Ten legends came from this small club in Queenstown in Georgetown. I sat on my bed last night and thought about how many legends New Zealand, with a population of five million, produced. I can think of three that come to mind. (Richard Hadlee is one such)
"You guys are…amazing…you produced ten global players that are recognised all over the world for their great sporting achievements, and that's something that needs to be recognised. I trust the youth cricketers here can take this and drive it and lean into it."
The company currently sponsors DCC's first and second division teams and conducts regular health and safety lectures with the club. Jackson's company has also sponsored several scholarship packages for young cricketers at the club.
The handing over ceremony was attended by two of DCC's most recent West Indies players, Travis Dowlin and Christopher Barnwell.