…students will be remembered through positive change in their communities – Ali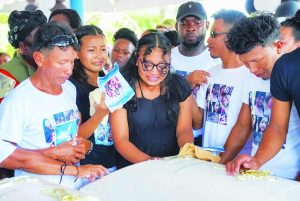 The final 11 victims of the deadly Mahdia dormitory fire were laid to rest on Thursday in their home community of Micobie Village in Region Eight (Potaro-Siparuni).
Those laid to rest were Natalie Bellarmine, Andrea Roberts, Lorita Williams, Nickleen Robinson, Sherlyn Bellarmine, Lisa Robert, Cleoma Simon, Tracil Thomas, Delecia Edwards, Arianna Edwards and Sherana Daniels.
President Dr. Irfaan Ali and several cabinet members joined with the community and families to pay their final respects to the departed.
President Ali, in brief remarks, said that lives of the children who died in the Mahdia Secondary School dorm fire will be remembered through the implementation of positive change in their communities.
"I recommit to all of these families our love and our continued support. We are going to ensure that these girls and our little boy, that their lives are marked with a legacy of positive change in these communities," he said.
Families, friends, teachers and community members of Mahdia gathered at the town's airstrip to bid their final farewell to the teen girls, before they were flown to Micobie, where their funeral rites were read and they were laid to rest.
Minister within the Housing and Water Ministry, Susan Rodrigues, Labour Minister Joseph Hamilton, Education Minister Priya Manickchand, Local Government and Regional Development Minister Nigel Dharamlall, and other senior Government officials offered support to the families during the sombre ceremony at the airstrip.
On Wednesday, four victims hailing from Chenapau – twins Mary and Martha Dandrade, Omefia Edwin and Eulanda Carter – were laid to rest at their home village as well.
Meanwhile, friends and relatives bid farewell to the youngest casualty and son of the school's caretakers, five-year-old Adonijah Jerome, on Wednesday at Eccles Assembly of God Church, East Bank Demerara.
Minister within the Office of the Prime Minister, Kwame McCoy, Amerindian Affairs Minister Pauline Sukhai and Speaker of the National Assembly, Manzoor Nadir, offered support to the family members during the service of the young Micobie resident.
The first funeral, that of 16-year-old Sabrina John, was held last Wednesday at her home village of Karisparu.
The three other Karisparu residents – Bibi Jeffrey, Belnisa Evans and Loreen Evans – were laid to rest on Tuesday.
The death toll rose to 20 on Tuesday as 13-year-old Sherana Daniels of Micobie succumbed to her injuries at the Georgetown Public Hospital (GPHC). Daniels was initially pronounced dead shortly after the fire, but medical personnel had managed to resuscitate her, following which she had been medically evacuated (medevacked) to the country's main referral hospital for further care.
The other critical patient was medevacked on Saturday to Northwell Health Burn Care Centre in New York to seek advanced medical care
She was picked up by the Global Rescue Ambulance via the Air Ambulance at Cheddi Jagan International Airport (CJIA).