Mark Royden Durant, also called "Royden Williams" and "Smallie", along with an accomplice, was shot and killed during a confrontation with members of the Joint Services at 33 Miles Bartica Potaro, Region Seven.
This was confirmed by Crime Chief Wendell Blanhum, who had initially reported that one man was killed in the confrontation, which occurred between Wednesday evening and Thursday morning. In a new update, the Crime Chief stated that a second person, suspected to be assisting the notorious murderer, was also shot dead.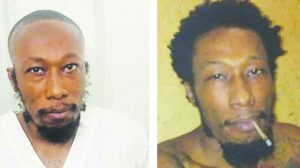 The accomplice has since been identified as Odel Roberts, also called 'Gully Side'. He was reportedly one of the men who kidnapped the boat captain and held him at gunpoint to transport 'Smallie' and others during the escape.
He was previously charged with the May 1, 2015 murder of Sophia shopkeeper Shawn Anys, but was acquitted of that murder in 2020. He was also charged with trafficking in narcotics.
Meanwhile, in a statement on Thursday evening, Police said that Joint Services ranks set up a dragnet within the 33 Miles, Potaro Road, Bartica area while they remained in pursuit of the wanted man and during the operation, on Thursday, Williams and his accomplice, Roberts, were confronted by a Joint Services team. Both men were killed during the operation.
A M70 rife, along with 79 rounds of live ammunition, was recovered from the two men.
Additionally, Police also found a bucket with a red shirt, a pair of black trousers, a grey T shirt, a yellow overshirt, a yellow long-sleeve jersey, a black T shirt, a black belt, a silver-blade knife, three Amoxicillin tablets, three small batteries, one toothbrush, three clothes pins, and one condom.
This comes on the heels of the shooting to death of another accomplice, Neon Howard, called "Taxi", of Friendship, East Coast Demerara, on Sunday evening at St Mary's Logging Area in Region Seven (Cuyuni-Mazaruni).
It was reported that Howard was arrested, and was being escorted through the trail when he snatched one of the ranks' firearms and attempted to crank it with the intention of opening fire at the ranks.
As a result, one of the Joint Services ranks, who was armed with an AK-47 rifle, discharged four rounds in Howard's direction, one of which struck him and caused him to fall in a ditch of water while still attempting to crank the firearm.
Another Joint Services rank then discharged three rounds from his 9mm weapon, two of which struck Howard and rendered him motionless.
At the time of Howard's arrest, Police said, he was found with a black Samsung phone, one gray haversack which contained a pair of black Nike boots, Vitamin C tablets, Iron tablets, malaria tablets, one camouflage hammock, one pack of cook-up seasoning, and one pair of checkered boxers.
"Smallie", made a daring escape from the maximum security Mazaruni Prison on May 19, with the assistance of heavily armed individuals. The escape occurred in broad daylight and involved the use of a speedboat. During the escape, the escort party accompanying Williams was attacked with AK-47 rifles by the individuals on the boat, which was in the Mazaruni River.
Following the escape, a reward of $10 million was announced by the Guyana Police Force for any information leading to Williams's arrest.
Days after the escape, six persons, four of whom are Prison Officers, were charged and remanded to prison for aiding the escape of the death row inmate. The Prison Officers charged are Alexander Hopkinson, 58, of Bartica Housing Scheme, Region Seven (Cuyuni-Mazaruni); Oldfield Romulus, 50, of Victoria Street, Cumberland Village, East Canje, Berbice, Region Six (East Berbice-Corentyne); Conroy Hosannah, 35, of East Canje, Berbice; and Omar Witherspoon, 26, of Stanleytown, New Amsterdam Berbice.
They have been charged along with Rajmohan Autor, called "Chico", a 48-year-old businessman of Parika, East Bank Essequibo (EBE); and Venezuelan national Frangeliz Jugandry Flores Perez, 28, of Kitty, Georgetown.
Williams is a convicted mass murderer, having been found guilty of the Bartica Massacre in 2008. During that incident, he and his accomplices ambushed and killed 12 individuals, including three Policemen.
Further, Williams had been sentenced to death in September of the previous year for the murder of Guyana Defence Force (GDF) Corporal Ivor Williams on January 23, 2008.
Williams had previously escaped from the Camp Street Prison on July 9, 2017, but was eventually recaptured on October 10, 2017, on the Weldaad Public Road, West Coast Berbice.