Assistant Deputy Minister for the Americas at Global Affairs Canada, Michael Grant on Monday evening expressed concerns that even after 119 days since Guyanese went to the polls to elect a Government there is still no elections result.
Grant in a Twitter post said, "very concerned that we still do not have an election result in Guyana. As demanded by CARICOM, the OAS and the Commonwealth, the outcome should be declared based on the recount which was confirmed by the CARICOM observer team. This has gone on too long."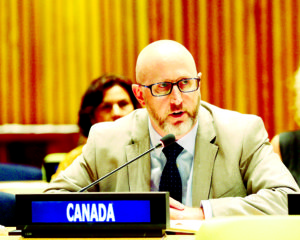 Grant's tweet comes on the heels of mounting international pressure for the results emanating from the National Recount to be used as the basis for the final declaration of the March 2020 elections results.
Only last week, The Commonwealth Secretariat condemned the move by Chief Elections Officer (CEO) Keith Lowenfield to invalidate over 115,000 votes and warned of the consequences that this could bring to Guyana's reputation as a democratic nation. Secretary General, Baroness Patricia Scotland reminded that just last week she had welcomed the Caribbean Community (Caricom) Observer Report, which was clear that the recount results represented the will of the people of Guyana when they exercised their right to vote on March 2.
As such, Baroness Scotland posited that the move by the CEO to present results to GECOM that did not reflect those certified at the end of the recount exercise would be contrary to the fundamental principles which are treasured by the Commonwealth family and are enshrined in the Commonwealth Charter.
"We call on all responsible parties to consider the consequences to Guyana's reputation as a democratic country if such an approach was allowed to stand," the Commonwealth SG posited
Baroness Scotland also expressed concerns over the fact that Guyana's General and Regional Elections are not yet concluded almost four months since polling day.
Also, acting United States Assistant Secretary for Western Hemisphere Affairs, Michael Kozak in a tweet on Twitter supported the Commonwealth statement, adding that Guyana's electorate has spoken clearly.
"Guyana's electorate spoke clearly & respected international observers @OAS_official & @CARICOMorg have certified the recount results as credible. We join them in calling for a conclusion to the electoral process in #Guyana & the announcement of a winner," Kozak said.
CEO Lowenfield on Tuesday last submitted his final elections report to the seven-member Commission in which he disenfranchised some 115,000 voters.
Lowenfield's new figures, which he said are "valid and credible votes", have invalidated nearly 25 per cent of the votes cast at the March polls.