– family believes man was murdered, body dumped in canal
Almost one week after a Canal No 1, Polder, West Bank Demerara (WBD) elderly man went missing, his nude body was on Wednesday afternoon discovered by relatives submerged in water aback said Canal.
The dead man has been identified as 87-year-old Sewkuar Somwria, known as "Balgobin", of Lot 6 Goodland, Canal No 1 Polder, WBD who went missing just after noon.
Guyana Times understands that Somwria, who normally wanders off, left his home on Friday last and was last seen by several persons throughout the day.
He was spotted in Dairy (La Parfaite Harmonie), WBD, and then again in the Canal Polder at approximately 15:00h. However, the last time that he was seen alive was at around 17:00h.
Family members formed several search parties to search for the elderly man, but came up empty-handed. A missing person's report was filed at the La Grange Police Station by the man's daughter on Saturday morning.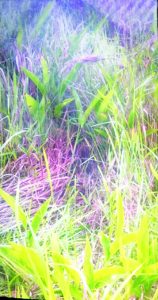 Family members, however, continued their search and it was on Wednesday at about 12:00h the man's partly decomposed and nude body was discovered lying face down submerged in water aback Baya Dam in Canal Polder.
When Guyana Times visited the man's family, Somwria's son-in-law, Prahalall Singh, said he and other relatives made a decision to recheck Baya Dam where they had previously searched when the discovery was made.
"We went through the dam deh but we didn't go straight down, we crossed over and go to Baya Dam so I tell me son, that take a few others and ayo go down in the dam straight in. Because the dam narrow, my son who went in with a motorbike couldn't tow one of the other boys so the boy came off and my son alone ride ahead and the two other boys follow he on foot. While he riding going in now, he smell a stinkness but because the dam cut off, he couldn't go further. So he come off the bike and he decided to look in the drain that cut off the dam and when he look, he just see this bow foot, this man swell and deh in this drainer," Singh detailed to this publication.
The family is alleging that foul play was involved in the man's death since in addition to Somwria's clothing being missing, his body looked to have been dumped at the area where it was discovered.
"He didn't have on no clothes, no clothes, naked! We can't find him clothes but Sunday night when we went in the same dam, we saw a fire…when I go there I tell them boys to don't go further that this look like murder because when I go on the scene, it nah got no impression in this grass of if like this man roll and go in the drain, nothing and the person that he is, he would not go there. And when the Police them come and them see where the man deh, them even she its murder", Singh recalled.
The last person to see Somwria alive, a teen who identified himself only as Ganesh, said that at the time, the elderly man was cladded in a brown shirt and pink trousers.
Kowsilla Singh, the dead man's daughter, reflected on the last moments she spent with her father.
"The morning now before me go cremation, me tell he eat up because me nah know when me coming back. Me cook bora and chicken and shrimps curry. I give him little bit of all two and me and he and my lil son, we sit down and we eat. Ow babe, that was the last, me daddy did old but he was strong, nothing didn't happen to he, strong man" the grieving woman cried.
She further detailed that the Police did nothing to assist the family with locating Somwria after the missing person's report was filed.
"If me daddy wasn't smelling, I would have never find he at the place where they throw he body, the Police nah come, them nah do nothing, when me find he body and meh go tell them, how me cry, I tell them that me report and nobody nah do nothing," Singh cried.
The father of six leaves to mourn his children, grandchildren, relatives and many friends.
The Post-Mortem Examination (PME) to determine cause of death is scheduled for Monday as the Police continue their investigation into the crime. (Kizzy Coleman)