…is now leading creole money-earner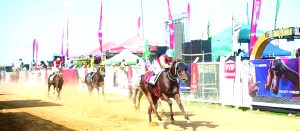 In less than two minutes last Saturday, the mount Rachel, a well-balanced, Guyana-bred, roan/grey, three-year-old filly earned $2 million for her handlers at one of the few Saturday race meets held in Guyana.
This has been the highest payday in her racing career so far, and very few professionals in the world earn that sort of pay cheque in such a short time. She is now the leading money earner in the three-year-old category for Guyana and T&T-bred horses. She heads this list with Derby winner Firecracker in second, and Gypsy King and Red Ruby following.
She had one disappointing run in the first Derby at Port Mourant in July, finishing unplaced in a race won by Red Ruby. She, however, bounced back from that run to surprise most in her starts thereafter.
Rachel is a filly owned by Bronson Cheefoon and trained by his dad John Cheefoon. Her claim to fame did not happen overnight. The daughter of an unnamed mare and USA-bred stallion Rock Moviestar, her promise began earlier in the racing season. She displayed her potential by finishing second to Gypsy King at the Port Mourant Turf Club (PMTC) in April, and proved that wasn't a fluke run when she triumphed at Bush Lot United Turf Club (BLUTC) a few weeks later, beating Foreign Link over seven furlongs.
Her next start was in the Derby on Guyana Cup day (13th August, 2023) at the Rising Sun Turf Club (RSTC), where she finished a neck behind Trinidad-bred shipper Firecracker. Last Saturday, one of the first Saturday cards in a very long while, Rachel avenged her narrow loss to Firecracker with a comprehensive victory, finishing at least two lengths ahead of T&T-bred horses Scandal and Firecracker to take home her highest pay cheque of $2 million. That win took her to the top of the ladder with earnings close to $5 million.
Speaking about her defeat in the Derby at RSTC to Firecracker, her groom 'Johno' Cheefoon explained that her rider Kissoon Chan did not make his move too early in the race. He explained, "He told me he felt that Firecracker arrived in the country days before the race. He believes she will not be that ready, so he decided that he will try and slip the field, and Firecracker will not be able to catch her, and that is what he did, but she got caught."
Last Saturday the tactics were reversed, as Firecracker, fitted with blinkers for the first time in Guyana, was hustled into the lead by her rider Colin Ross in the seven furlongs contest. Ross had opened up a sizeable lead, but heading up the backstretch, Firecracker's strides began to shorten. Rachel was sent after Firecracker, and easily overtook her, with Scandal, another Trini-bred, in hot pursuit.
For a fleeting moment Scandal looked the winner when he made his challenge, but he did not carry through, because he did not keep a straight course. His rider 'Milla' was unable to correct the move, and if he had done so, the finish would have been very exciting. Rachel galloped on to a resounding success, to the joy of her supporters and the Cheefoon family.
The Cheefoons' other racer, Hartland, also won last Saturday, the Cheefoons being pretty confident of the colt triumphing.
This newspaper contacted the Cheefoons, but was unable to get hold of owner Bronson to confirm whether they would now invest the proceeds from Rachel's victory to buy another horse.