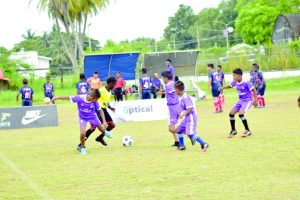 There were goals galore to be witnessed at the Ministry of Education (MoE) Ground on Carifesta Avenue in Georgetown last Saturday, as the 10th edition of the Courts Optical Pee-Wee Under-11 Football tournament got underway.
Region Two's Kabakaburi Primary were among the first to pick up a win, defeating Soesdyke Primary 4-0. A Jamie Baird brace (8th, 32nd) and one each from Romel Elliott (6th) and Jadon Baird (10th) did the trick.
Another brace, this time from David DeCosta (29th, 38th), led Redeemer Primary to a 3-1 win over Tapakuma Primary in the next game. While Shivraj Persaud (39th) was the other goal-scorer for Redeemer, Adron Fredericks netted Tapakuma's consolation in the 35th.
Then two hattricks off the boots of Kriston Chadler (6th, 22nd, 37th) and Isaiah Daniels (1st, 8th, 39th) lit up the venue as St John the Baptist defeated Tuschen Primary by a 9-0 margin. Kareme Welcome also contributed two to St. John's tally.
Ezekiel Haynes (3rd, 7th, 12th, 28th) was the marksman on show in the next game, netting 4 goals in Potaro Primary's 6-0 win over St. Ambrose. Michael Telemarque (15th) and Mark Timmerman (40th) netted one each for Potaro.
F.E. Pollard secured a 3-1 win over One Mile Primary on account of goals from Kaiden Washington (1st), Jayden Sargeant (13th) and Season Smith (15th). Devin Stephens netted the lone goa for One Mile in the 38th.
Next it was Rosignol Primary's chance to bask in a victory, defeating Winfer Gardens Primary 6-0. John Collins struck thrice in the 3rd, 19th and 31st minutes, while one goal each came from Richard Pompey (8th), Jeremiah Grant (11th) and Delante McKenzie (14th).
All Saints and St Gabriel's Primary had the first draw of the tournament, finishing 2-2. A. Samuels netted a double in the 3rd and 17th minutes for a double for All Saints, while Simeon Devonish did the same for St. Gabriels in the 15th and 32nd.
Also drawing by the same margin were St Pius and Den Amstel Primary. For last year's runners-up St Pius, Aaron Vasconcellos and Daniel Chesney scored in the 7th and 17th minutes respectively. For Den Amstel, Akeem Boodie (20th) and Akray Santos (26th) found the back of the net.
Meanwhile, West Ruimveldt overcame Sophia Primary 4-1. Dane Vancooten (1st, 18th) and Deshawn Thomas (9th, 14th) found the back of the net twice each for West's 4. Joshua Blonde scored for Sophia in the 25th.
A double from Jaydon Dick in the 8th and 13th minutes, alongside one from Dominic Thomas in the 22nd, led Tucville Primary to a 3-0 win over Belladrum Primary.
Meanwhile, Malachi Douglas's 22nd minute strike helped Colaaco Primary needle St Aloysius Primary, and Kareem Hilton's hattrick (14th, 16th, 36th) paved the way for St Stephens Primary to pick up a 3-0 win against Leonora.
A nail-biter saw Marian Academy sneaking past Smith's Memorial 3-2. Christiana La Rose (1st), Maxwell Viapree (3rd) and Rhys George (39th) netted one each for Marian, while Dalwin Nelson (7th) and Jomary Beverny (22nd) scored once each for Smith's Memorial.
In addition, defending champions Enterprise, Friendship and North Georgetown Primary enjoyed walkovers.
The Pee-Wee tournament will continue this Saturday, September 30th, at the same venue.