…charged to use agriculture for entrepreneurship
The Guyana School of Agriculture (GSA) on Wednesday welcomed a group of differently abled persons to their operation at Mon Repos, on the East Coast of Demerara (ECD) where first-hand information was provided on the dynamics of agricultural activities.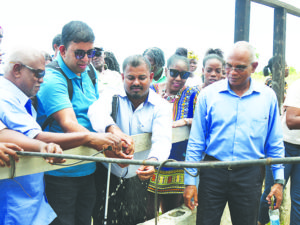 The initiative, called the Agr-Ability Programme, is the first of its kind and aims to attract persons with disabilities into the sector. It was made possible through collaboration with the National Council for Persons with Disabilities.
Throughout the day, persons were given a tour of the facility and the countless areas of agriculture which can be pursued. The GSA ranges in a number of fields, including farming, livestock production, forestry, animal health, and agro-processing.
Those who attended came from Regions Three (Essequibo Islands-West Demerara), Four (Demerara-Mahaica), Five (Mahaica-Berbice), Six (East Berbice-Corentyne) and 10 (Upper Demerara-Berbice).
Present at the event was Agriculture Minister with responsibility for Rural Affairs, Valerie Adams-Yearwood, who insisted that persons with disabilities should take advantage of such opportunities to advance their personal growth.
Meanwhile, Coordinator Ganesh Singh urged the gathering to take up agriculture as a form of entrepreneurship. They have been trying to encourage more persons to get involved in such initiatives.
Singh explained, "Over the past three to four years, we've been trying to get more persons with disabilities involved in agriculture. Whether it's at the level of food processing or starting their own little farm, in ensuring that we start our own little business, become entrepreneurs and plant those two plots in your backyard".
He added, "We need to go in that direction and today could be the beginning of that. Some years ago, we started some hydroponics. With this visit, I hope we can definitely restart those initiatives".
This year, Agriculture Month is celebrated under the theme: "Sustainable Agriculture for Ensuring Food Safety and a Green Economy". A calendar of activities were launched throughout this time. The main highlights include the National Tree Day observance at Ebini in the Upper Berbice River and World Food Day observance at Lake Mainstay, Wyaka, in Region Two.