The Guyana Post Office Corporation (GPOC), in observance of World Post Day, commissioned a rehabilitated Anna Regina Post Office in Region Two (Pomeroon-Supenaam). The Department of Public Information (DPI) reported that the re-opening of the post office falls in line with the theme for this year's celebration: "Delivering Development".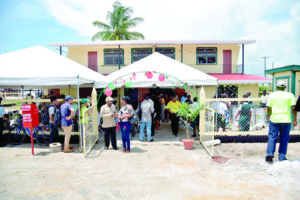 The rehabilitation of the building cost approximately $12M and now has improved security features, caters for persons with disabilities, better seating arrangements and washroom facilities for pensioners and a room to house an Information and Communications Technology (ICT) hub.
In her remarks at the ceremony, Public Telecommunications Minister, Catherine Hughes said the anniversary and rehabilitated post office signifies another worthy stride by the GPOC. The Minister noted that in a changing world, the postal service must be able to adapt to meet the needs of the people.
"I am happy to see that we are celebrating, and bit by bit, we are converting and changing and ensuring that we are providing better facilities. In time, I hope that all the post offices in Guyana will reflect the kind of service, the kind of standard we will provide here at Anna Regina," the Minister is quoted by DPI as saying.
Minister Hughes said that the post office will also help to ease the hassle of persons travelling long distances to conduct certain types of business transactions which can be done at the post office.
"We want to make it more comfortable and easier to serve you," the Minister stated, adding, "around the world, the postal service is renewing and reviewing and reorganising and in Guyana, it is no different. We are still keen on making sure that all the post offices can provide modern facilities and technology in this digital world that is coming".
Postmaster General (acting) Anastasia Lynch said that the GPOC continues to evolve to effectively serve the populace.
"GPOC has diversified and is developing, we are undergoing a transformation, a positive one. Our half-year financial for 2019 is a reflection of this. The reopening of this building is a reflection of this as well. We have made a turn towards development and while the path ahead may resemble an obstacle course, I am reassured by the commitment of the Minister and Board of Directors – the catalyst behind this transformation," she underscored.
Lynch noted that the GPOC is operating at an optimal level, delivering 98% of its mail within two days.