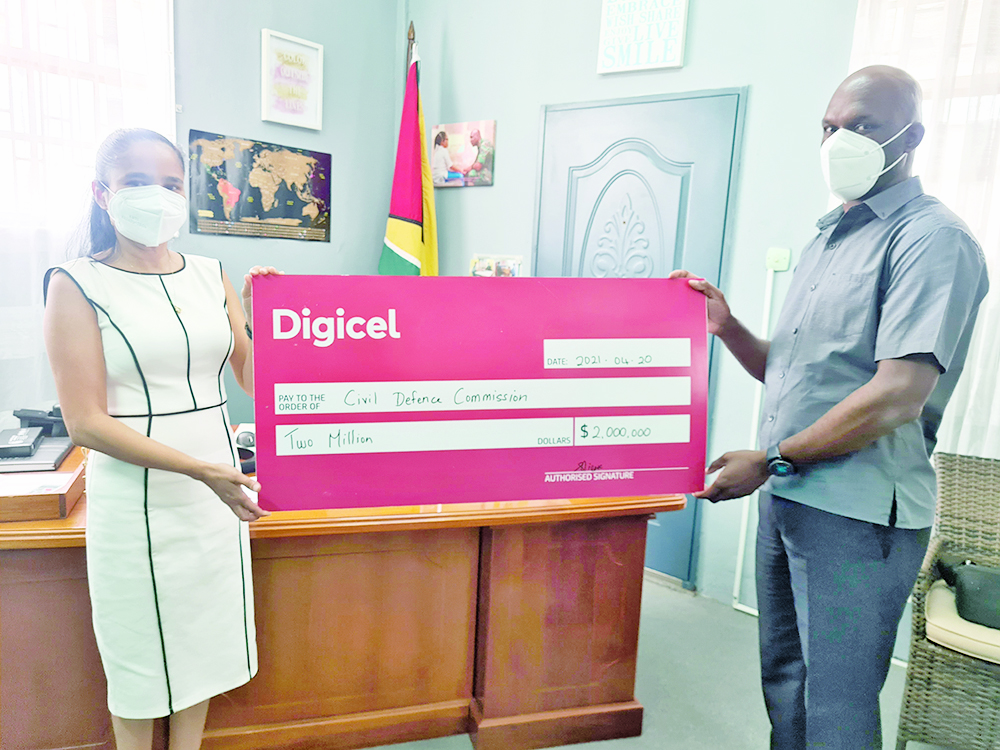 Digicel Guyana has pumped $2 million towards Guyana's relief support for the island nation of St Vincent and the Grenadines following the devastation caused by the La Soufrière volcanic eruptions.
The donation was recently handed over to the Civil Defence Commission (CDC).
Thousands of people have been evacuated from the red zone and housed in shelters, as a result of ash fall from the explosive eruptions of La Soufrière. These eruptions have affected the entire island and the situation continues to be difficult for residents.
In a statement to the media, Digicel committed itself to working with the Government of Guyana on national and regional emergencies and commended the CDC for its management of the relief efforts.
"We are confident that our donation will be put to good use in meeting some of the immediate needs of the people of Vincent and the Grenadines. Simone Pierre, Head of Commercial, said at the handing over. "Digicel is honoured to be part of this collaborative effort initiated by the CDC in providing relief to the people of St Vincent and the Grenadines. We would like the Vincentians to know that our hearts and prayers are with them during these difficult times."
Further, the Digicel Group donated US$500,000 worth of much-needed items to the Government of St Vincent & the Grenadines last week.
"With our priorities being helping to keep people safe and keeping them connected, it's at times like these that our natural instinct is to want to do everything we can to help. As a company, as a team and as the Digicel family, we are here for the people of St Vincent and the Grenadines and ready to help in a meaningful way," Digicel Group Chairman Denis O'Brien noted.