Digicel Guyana have handed over a quantity of tickets to some youths of the Kingston Football Development Academy Camp to enable them to witness the Guyana/ Belize Football Clash in the CONCACAF Nations League at the National Track and Field Facility at Leonora, West Coast Demerara.
The tickets, handed over on Friday, March 22, will afford those youngsters from Georgetown's Kingston and Tiger Bay communities a rewarding experience in seeing the Golden Jaguars vie to secure a spot for a chance to qualify for the Golden Cup.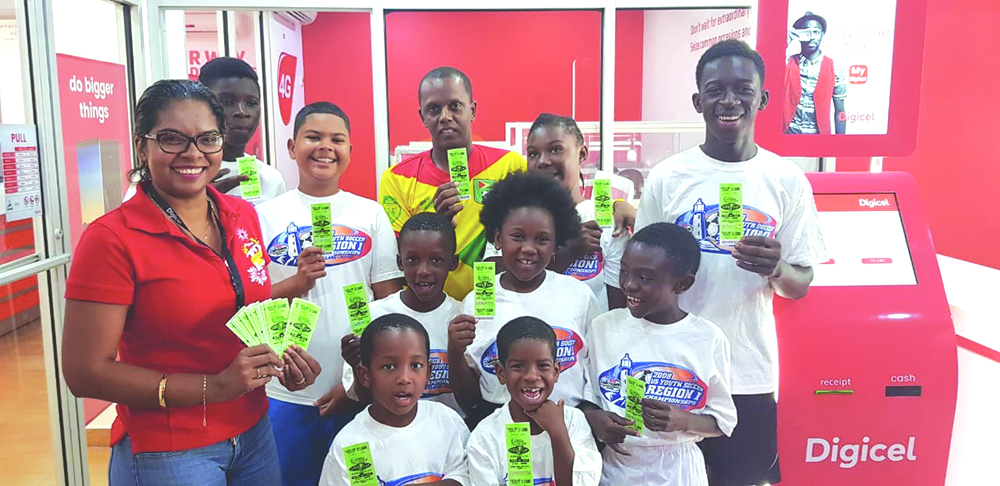 Mr. Forrester, who is very instrumental in reviving the "Kingston Community Football Development Academy", has described this gesture as affording the youths an opportunity of a lifetime. He said some of the children "love football, so this will be very exciting for them to witness a game of this magnitude first hand". Forrester noted that this experience should stay a long time in the psyche of the young ones.
It has been explained that Digicel believe in imparting positive experiences that would impact youths in communities across Guyana. During the simple handing over ceremony, Digicel representative Vidya Sanichara noted that Kingston is very special to Digicel and opportunities such as these are never taken for granted.
"Since this is a significant game for the Jaguars, we are delighted to be able to provide the opportunity to these young ones," she said.