…says Buxton will not be left out of development plans
Prime Minister, Retired Brigadier Mark Phillips on Monday led a ministerial outreach to the community of Buxton, East Coast Demerara, taking a new course of development and opportunities to residents.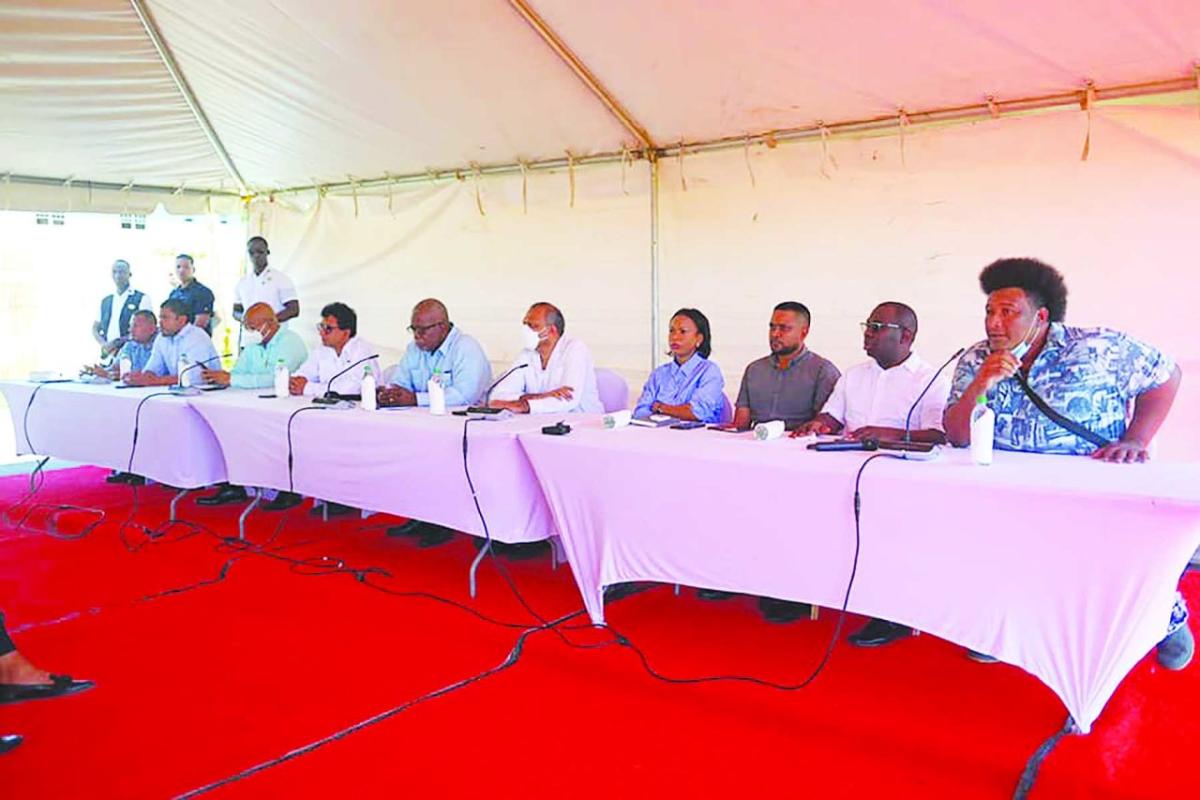 The outreach saw scores of persons showing up, as Government Ministers tended to age-old issues, while announcing solutions and new interventions on the spot.
The Cabinet team included Public Works Minister Juan Edghill, Attorney General Anil Nandlall; Health Minister, Dr Frank Anthony; Sports Minister Charles Ramson, Housing Minster Collin Croal, Tourism Minister Oneidge Walrond, Local Government Minister Nigel Dharamlall and Minister at the Office of the President Kwame Mc Coy.
While a sprinkling of persons chose to protest on the streets, the Prime Minister lauded the gathering for choosing development of the community, and not falling prey to divisive persuasions.
He underscored that the Government has an inclusive people-centred plan and Guyana is now positioned at a greater advantage with the oil resources to fulfil the needs of Buxton and other communities.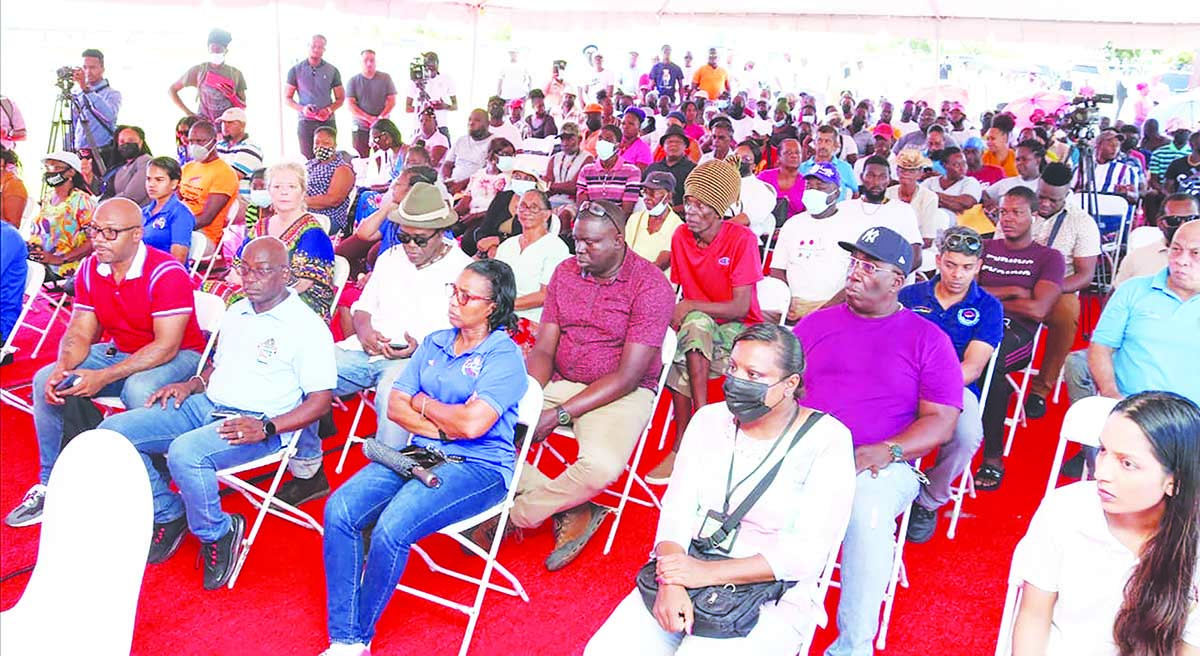 "Now is the time for development in Guyana and Buxton will not be left out. No village in Guyana will be left out of the development and that is One Guyana. When we say one Guyana, we talk about development for all the people of Guyana, wherever you are."
He added, "Don't let us allow anybody to divide us. This is a democracy…The PPP/C Government has always been a put forward a people-centred development plan for Guyana. From 2019, we started harvesting a resource known as oil as gas. That has given us revenue that we never had before. This Government has decided that with that revenue, we will transform Guyana together with the people. All our programmes are people-centred."
Several issues were raised regarding unemployment, land allocations, grants for small businesses, access roads to farmlands and others. In other cases, persons decried that they were unable to acquire contracts for projects in the village.
A single mother of three from the community relayed that she applied for a house lot over a decade ago but is yet to receive word on its approval. Similar matters were heard from others.
Throughout the day, a team from the Housing Ministry provided persons with a medium to inquire on the status of their land applications, in which they will be contacted accordingly.
Another person added, "There is a lot of youths unemployed. Some of them have their degrees and they're not getting jobs. There's a lot of contractors who are not getting jobs. We know that the devil finds work for idlers so I'm asking if you could find jobs for the contractors and people with qualifications."
Job opportunities
Speaking on issues regarding employment of youths, Housing Minister Collin Croal stressed that many job opportunities are created in the housing sector and through other State initiatives, which will ultimately trickle down to Buxtonians.
"You have billions of dollars in infrastructure work that is taking place, many of whom the labour force comes from right here in Buxton…As part of the employment opportunities that will be abound for the East Coast, you also have the hub of industrial-commercial activities that will take place right within the Enmore-Foulis land area, that will see thousands of job opportunities," Croal expressed.
A farm-to-market road was also touted for farmers to access their lands. Minister Edghill has committed to having one of the existing roads rehabilitated to enable access.
He told the gathering, "What the Irfaan Ali Administration is seeking to do is creating opportunities. We have to come in and help vulnerable groups. That is what we have been doing but when you provide an opportunity when you could expand a farm, block making, or you could open a bakery, we have to be able to give you access."
Other issues at the NDC level were also ironed out by the Local Government Minister. Any works to be done in the community were instructed to be awarded to registered companies in Buxton. Resources will be injected to clean up the area with enhancement workers from the community.
Meanwhile, persons interesting in starting a small business were engaged by Minister Walrond. (G12)