The Dr Balwant Singh Hospital, E Street, Georgetown, is the first medical facility to be certified with international standards. The recognition was given following an audit that was conducted by Perry Johnson Registrars, Inc.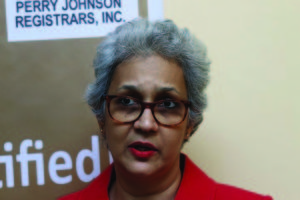 This was announced by Chief Executing Officer (CEO), Dr Madhu Singh who related on Tuesday that two auditors from the organisation visited the hospital and conducted a ten-day audit exercise.
The auditors, she noted, were pleased with the facility's documentation and the quality of services that the hospital provides.
"The certification also ensures that you keep all your other services up to mark so we are very pleased, all of these things are voluntary, it is not compulsory to do any of this but it is just that we like to set new standards for ourselves," Dr Madhu Singh related.
According to Dr Madhu Singh, customer's satisfaction is a major focus of the ISO. She added that the ISO 9001:2015 is very strong on customer satisfaction and keeping suppliers happy.
The lab was certified to the ISO 15189 standard two years ago but now has its International Organisation for Standardisation ISO 9001:2015 certification.
Dr Singh added that being ISO certified is a huge achievement for the country, since the hospital is the only one in Guyana that has received ISO [International Organisation for Standardisation] certification. She encouraged other medical institutions to attain their ISO certification in order to provide the highest quality of healthcare services.
"We're very grateful to all our staff, especially the doctors and management team, for extensive work that completed before and during the audit to ensure that we got our ISO certification. The very work requires for the audit has also pushed us to operate at even higher standards that we were already performing and all of us have grown through this process," she noted.
During the ISO certification process, the Guyana Bureau of Standards provided technical support to the hospital. The Dr Balwant Singh Hospital has grown from a medical laboratory to being the only multispecialty hospital.
The services audited during the ISO certification process include Obstetrics and Gynaecology, Internal Medicine, General Surgery, Nephrology and Dialysis, ICU Services, Emergency Services, Assisted Reproductive Technology including IVF, Ophthalmology, Dentistry, Radiology, Paediatrics and Neonatology and Cardiology.