As it works towards achieving its target of eliminating Lymphatic Filariasis, the Public Health Ministry will be rolling out its 2019 Mass Drug Administration (MDA) exercise later this month in several regions, with an increase in the drug therapy.
This is according to Director of the Vector Control Service Unit at the Public Health Ministry, Dr Horace Cox, at a media sensitisation session on Tuesday.
He explained that previously, the MDA exercise was focused mostly in Regions Three (Essequibo Islands-West Demerara), Four (Demerara-Mahaica), Five (Mahaica-Berbice) and 10 (Upper Demerara-Berbice), based on a National Prevalence Survey done in 2001, which identified them as highly endemic.
"Our geographical coverage was not a hundred per cent, rather it was at 44 per cent and as a result, in order for us to achieve elimination… we need to ensure that we achieve 100 per cent geographical coverage," he noted.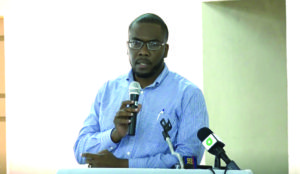 To this end, a remapping survey conducted in Regions One (Barima-Waini), Two (Pomeroon-Supenaam), Six (East Berbice-Corentyne), Seven (Mazaruni-Cuyuni), Eight (Potaro-Siparuni) and Nine (Upper Takatu-Essequibo) last year highlighted some of these regions as endemic areas. This was determined based on a criterion which looks at geographical zones with two per cent prevalence or more as endemic and thus, in need of an MDA exercise implementation.
According to Dr Cox, not all the regions passed that threshold and in some cases, not the entire region is in need of treatment.
As such, the MDA exercise in Region One will be focused on the Moruca sub-region and Santa Rosa, while in Region Seven, it will be done in the Lower Mazaruni area as well as Bartica and surrounding areas.
However, Regions Two and Six will see drug therapy being administered throughout the region. Additionally, Regions Eight and Nine were excluded completely from the MDA campaign based on results obtained.
"So what we're seeing here is more or less coastal distribution of Lymphatic Filariasis cases in Guyana," he posited.
The 2019 MDA exercise will be rolled out later this month, according to the VCS Director.
However, there will be an adjustment to the treatment during this year's campaign, which saw a shift from a two-pill regiment to three pills, MDA-IDA (Ivermectin, Diethylcarbamazine and Albendazole). The use of this triple-drug therapy was a recommendation from the World Health Organisation (WHO).
According to Cox, it has been found that adding Ivermectin to the existing regimen, DA – Diethylcarbamazine (DEC) and Albendazole – will increase the effectiveness of the fight against filaria by stopping transmission of the disease and eventual elimination. "Ivermectin makes our intervention more effective… and in so doing, rather than needing five successive years of adequate coverage with DEC and Albendazole, we only would need two successive adequate coverage adding Ivermectin to DEC and Albendazole. So when we access it, we save financially, we save time, we save in terms of human resources efforts and there is a chance of diminishing our risk of missing our mark because if we continue with DEC and Albendazole and we make it year four and miss a year, then we have to start all again for another five years," he explained.
Furthermore, the staff distributing pills will now be using a "doze pole" to measure the dosage of individual persons based on their heights. The table or ruler-like object will display the dosage for each height range.
These changes are established norms, which, as Dr Cox pointed out, the Public Health Ministry in collaboration with technical partners are using to not only ensure Guyanese benefit is maximised but also achieve filaria elimination in 2020 as set out in its Health Target.
Lymphatic Filariasis (LF) also called "Filaria" or "Big foot" is a mosquito (vector)-borne disease spread through the bite of a mosquito (Culex) which deposits tiny worms called microfilaria in the bloodstream. These worms travel to the lymphatic system where they live for years and mature into adult worms, causing damage, leading to extreme swelling of the breasts, arms, legs or scrotum.
While there is no cure for LF, adequate management could result in the reduction of swelling.
However, persons living in endemic areas can prevent filaria with the use of MDA-IDA or triple-drug therapy.
It is reported that 97 per cent of people given IDA had no larvae after one year, compared to 34 per cent of people given the previous two-pill treatment. It is believed that IDA kills or permanently sterilises adult worms.
Moreover, the use of Ivermectin has additional benefits in that it is effective against scabies and lice as well.