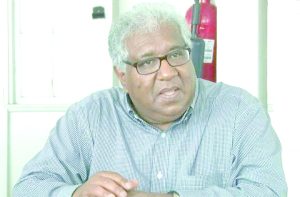 Berbice cricket continues its remarkable development and expansion with the support of longtime sponsor Dr Tulsi Dyal Singh, who has renewed his support for the hosting of the Berbice Cricket Board's (BCB) annual cricket academy.
Dr Singh, an outstanding medical practitioner who was born in the Ancient County but lives in Texas, USA, has been sponsoring Berbice Cricket since the election of Hilbert Foster as BCB President in 2018.
Foster has said that Dr Singh, in 2023, invested over three million dollars of his own funds to support Berbice cricket, and that the popular doctor is one of the main reasons for the success of his presidency.
The BCB annual cricket academy would be held for a period of one week at the end of July. The venue is the Port Mourant Cricket Ground, and a total of seventy of the county's finest players would be participating, while some mini academies would also be organised for youths in the West Berbice and Upper Corentyne areas.
The BCB Academy would be headed by Level Three Coach Winston Smith, while other coaches, like Ryan Kissoonlall, Nicky Latchman, Travis Hardcourt, Ryan Algu, Tremayne Smartt and Balram Samaroo, are expected to be part of the coaching staff.
Special emphasis would be placed on improving the defence of batters, the control of the fast bowlers, and getting spinners to spin the ball, instead of bowling fast. Emphasis would also be placed on wicket-keeping, physical fitness, mental strength, captaincy, and on the history of the game.
Several former outstanding national players would be invited to visit the academy to talk to the players and conduct sessions. The BCB academy would also see batting cages and bowling machines being used for the first time by coaches. The proactive BCB has invested millions of dollars to purchase six bowling machines and also construct five batting cages in a massive programme aimed at youth development.
Foster has expressed profound gratitude to Dr Singh for his continued support of the game, and noted that, in 2023, the doctor has, by himself, sponsored two inter-zone tournaments and purchased two of the bowling machines.
Dr Singh has, in the past, invested heavily to restore the BCB Office, purchase water pitchers for clubs, sponsor the purchase of a pitch cover, publish the historic coaching manual, and co-sponsor the purchasing of grass cutters for clubs, among other things.
Dr Singh has said he is a proud Berbician who is passionate about cricket as a means of supporting youth development. He noted that he is very impressed with the way the Foster-led BCB has been leading a revolution of the game in the county. And he is impressed by the communication skills of the board, its accountability, and its regular reports.