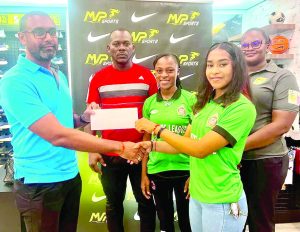 The Guyana Defence Force Football Club, champions of the recently concluded MVP Sports Women's Development Football League Playoff, along with second-, third- and fourth-place winners, have yesterday received more than $400,000 in prize money.
During a simple ceremony on the company's premises at the Giftland Mall at Turkeyen, Georgetown, MVP Sports' Managing Director Ian Ramdeo presented trophies and cash prizes to representatives of champions Guyana Defence Force Football Club ($200,000), second place winners Fruta Conquerors Football Club ($100,000), third place team Guyana Police Force Football Club ($75,000) and fourth place winners Pakuri Jaguars Football Club ($50,000).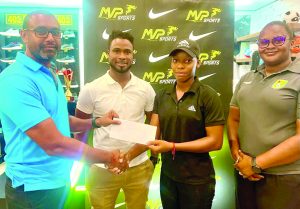 The afternoon ceremony was attended by Women's Football Association President Andrea Johnson, Guyana Football Federation Technical Director Bryan Joseph, and by coaches.
The playoff, which had kicked off on March 4, featured 12 football clubs – Fruta Conquerors, Guyana Police Force, Guyana Defence Force, Pakuri Jaguars, Bartica All Stars, Potaro Strikers, Essequibo All Stars, Foxy Ladies, Milerock, Coomacka, New Amsterdam United, and Santos. It concluded on April 5 with an unforgettable match between the Guyana Defence Force and Fruta Conquerors at the Eve Leary Sports Ground in Kingston, Georgetown.
In his brief remarks, MVP Managing Director Ian Ramdeo said he was happy to partner with the Guyana Football Federation and the Women's Football Association to give Guyana's talented female footballers a national platform on which to shine.
"MVP Sports is pleased to be a part of this tournament, especially given the talent that we have in the women's arena of football in Guyana, who don't necessarily get as much playtime as the men," Ramdeo said.
He added that his company would continue to support football tournaments, especially the women's game.
"We are looking forward to being a part of other tournaments in the future, and helping to support not only football, but the women's arm of football in Guyana."
Women's Football Association President Andrea Johnson again congratulated the top four clubs, and thanked MVP Sports for its continued commitment to the advancement of women in football.
"The women's game cannot grow without the support of corporate Guyana. I want to once again thank MVP Sports for their commitment to our vision of ensuring equality in football in Guyana," she said. "Congratulations once again to the top four teams, and we look forward to seeing all the clubs participating in the next league.
"We had an extremely exhilarating playoff, and will be building on that foundation soon," Johnson shared.