BCB's 80th Anniversary Celebrations…
ꟷ Republic Banks on board as sponsorships continue to pour in
The Berbice Cricket Board (BCB) is continuing the celebration of its 80th Anniversary with the upgrading of its offices at Cheddi Jagan Street in New Amsterdam.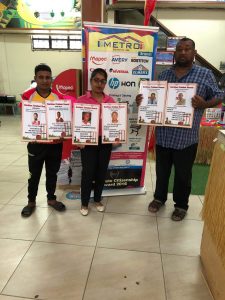 BCB President Hilbert Foster, who is spearheading the celebrations, has said that upgrading the outdated office is a main priority of the BCB, with other main priorities being educational competitions, honouring of heroes and assisting youths to make positive differences in their lives.
Barbados-based Berbician Dr. Puran Singh, an official sponsor of the BCB, last week donated a desktop computer and printer as part of the office upgrading effort. Attorney-at-Law Arun Gossai handed over the donation on behalf of Dr. Puran Singh.
Foster has said that having its own computer and printer would enable the BCB to conduct all of its business internally and at the same time reduce its operating cost.
As part of the upgrading, the BCB Office now has a television set, DVD player, fax machine, telephone set, electric fans, kitchen utensils, water dispenser, water pitcher, and office equipment among other amenities. The BCB would shortly receive a three-piece chair suite from A.H.& L Kissoon, while sponsorships have been obtained to purchase folding chairs and plastic chairs for the hosting of meetings, and the roof would be covered with PVC ceiling and the floor would be tiled.
Foster has said that his administration has, over the last nineteen months, been concentrating on restoring Berbice Cricket to its dominance on the field, assisting clubs and players, hosting developmental programmes, and uniting all factions of Berbice Cricket.
With Berbice Cricket again on strong footing, the BCB is now seeking to upgrade its services to the general public. Since inheriting a meagre $43,000 from the former administration, the Foster-led BCB has raised over $18 million in cash and kind, and has launched over 50 cricket tournaments at several levels, including under-13, under-15, under-17, under-19, under-21, female, second division, internal zone, double wickets, intermediate, primary schools, secondary schools and First Division.
The New Amsterdam Branch of Republic Bank (Guy) Ltd has also donated to the BCB $75,000 towards purchasing trophies and medals, while other donations have been received from Spready's Snackette, Sentinel Security, J's Printery, Guyana National Newspapers Limited, University of Guyana, Poonai's Pharmacy, Balram Shane General Store, Canadian Surplus, Devandra Bishoo, Anthony Bramble, Dr. Tulsi Dyal Singh, Gudakesh Motie, Massy Berbice, Attorney-at-Law Rodwell Jugmohan, Sukhpaul Gas Station, RHTY&SC,MS, Delmur Shipping, and Caribbean Nation Group, among others.
Bakewell, further, has donated 100 souvenir 80th Anniversary Cups, Metro Office Supplies donated all of the certificates and foam boards for the 'Honouring of Heroes', while the National Communication Network has donated a one-hour television programme during prime time for the Quiz Competition.
Foster has said that the BCB, like the Rose Hall Town Youth & Sports Club, MS, was easily able to get sponsorship for its programmes because of its outstanding record of service to Berbice. He has expressed gratitude to all donors for the 80th Anniversary, and has pledged that the BCB would continue to uphold the high standards it has set itself in the past two years.