ꟷ tourney starts tomorrow
Many entities are throwing their support behind the Wakenaam Cricket Committee's T20 tournament, among them is the Rubis Gas Station of Bel Air Public Road, Greater Georgetown, which has joined Trophy Stall at Bourda Market in this support initiative.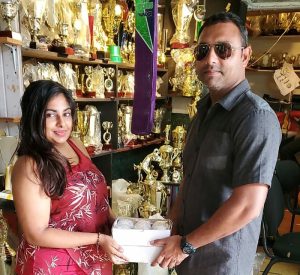 The Wakenaam Cricket Committee is staging a T20 competition on that Essequibo river island. The competition has attracted seven teams: Good Success, Sans Souci, Sans Souci Jaguars, G Square Cavaliers, Noitgedacht SC, Zeelandia and Maria's Pleasure. These teams will be divided into two groups and will play each other once, following which the top two teams will go through to the semifinals.
Speaking at a simple presentation ceremony at Bourda Market, Bel Air Rubis representative Melvern Subrina Singh thanked the Wakenaam Cricket Committee for giving Rubis opportunity to be associated with this initiative, adding that the company is delighted to extend support.
"In these areas such as Wakenaam, there is an abundance of talented youths. However, they need the necessary exposure to excel. Staging a competition can be somewhat taxing on the organisers, especially when it comes to sponsorship; so we have decided to contribute towards the development of the game there," she said.
Added that Rubis is passionate about the game and its personnel are looking forward to a successful and exciting competition, she wished the teams well.
In an invited comment, Secretary of the Wakenaam Cricket Committee, Nazeer Mohamed, expressed gratitude to the sponsors, Lalta Gainda CEO of Bel Air Rubis and Ramesh Sunich of Trophy Stall, for making the competition possible.
Mohamed informed that the tournament is set to commence on Sunday at the Wakenaam Community Centre ground, but adverse weather conditions have left sections of the outfield waterlogged, putting the matches in doubt. He added that excess sunshine is needed to get the ground match ready.
Mohamed pointed out that sponsorship is essential for staging any competition, adding that this is one of the WCC's main challenges. He informed that Good Success, Sans Souci Jaguars, Sans Souci and Zeelandia are in Group A, while Noitgedacht SC, Maria's Pleasure and G Square Cavaliers SC are in Group B.
SS Jaguars are set to play Zeelandia at 09:30hrs, while Maria's Pleasure are schedule to play G Square Cavaliers at 13:30hrs in the opening fixtures on Sunday.