BCB/New York Business Group Under-19 Tournament…
The 2019 Berbice Cricket Board/New York Business Group Under-19 Cricket Tournament, recently restarted after the long rainy season, has seen four teams advance to the semifinals after defeating their rivals in the quarterfinals played last week.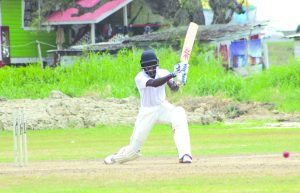 National player Junior Sinclair stroked his third century of the tournament during the quarterfinals, while outstanding performances were also recorded by Kevlon Anderson, Gevon Schultz, Garfield Benjamin, Chanderpaul Govindan, Gouraz Ramesh, Kevin Umroa, Satnarine Singh and Andy Tejraj
At Cumberland Ground in Canje, Rose Hall Town Pepsi 'A', playing against the Young Warriors of Cumberland, Canje, won the toss and elected to bat. They scored 303 for 4 from 45 overs. Junior Sinclair scored 170 not out with eight boundaries and two sixes. He received support from Chanderpaul Govindan with 45, Kevlon Anderson with 35 and Vikash Subramanie with 18. Alex Algoo claimed 2 wickets for 34 runs and Ricardo Ramdehol 1 for 37 for a tired looking Young Warriors Cricket Club.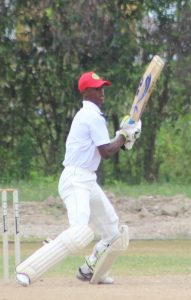 Young Warriors Cricket Club, in response, were bowled out for 109 in 26.4 overs to lose the match by 194 runs. Carl Gilgeous with 37 and Alex Algoo with 32 top scored. The RHT Pepsi 'A' bowling attack was spearheaded by Jonathan Rampersaud with 3 for 12, Dorasammy Mahadeo with 2 for 33, and Jeremy Sandia with 2 for 2.
At the Canje Ground, Tucber Park 'A' crushed RHT Pepsi 'B' by 202 runs. Batting first, Tucber Park Cricket Club recovered from 14 for 3 to reach 228 for 9 in 46 overs. National players Garfield Benjamin with 81, Gevon Schultz with 34, Leon Swammy with 54 and Abdul Ramsammy with 22 were the principal scorers, as Naicholas Lawson took 3 for 37 from 9 overs. Rayad Rahaman, who took 2 for 19, bowled well, and Christopher Deroop and Matthew Pottaya each took a wicket. Rose Hall Town Pepsi 'B' comprising of mainly under-15 and under-13 players were dismissed for 26 from 20 overs as national junior players Gevon Schultz with 4 for 5 and Leon Swammy with 3 for 6 were in destructive mood.
At the historic Albion Community Centre Ground, Albion Community Centre defeated Blairmont Community Centre by 93 runs. Albion Community Centre amassed 178 all out in 43.4 overs, with Inzam Shazam's 36, Antonio February's 34, Sarwan Chaitnarine's 33 and Reyad Karim's 29 being the top scores, while Andy Tejraj took 5 for 31 as Blairmont's best bowler.
Blairmont Community Centre, in response, disappointed with the bat, and were bowled out for 85 in 30 overs. Marvin Prashad's 47, Nigel Deodat's 19 and Seon Glasgow's 14 were the best returns, as left-arm spinners Gourav Ramesh with 6 for 9 from 8.5 overs and Kevin Umroa with 3 for 12 spun webs around those batsmen.
At the Cotton Tree Ground, Rose Hall Canje upset Zone 'A' Paradise by 95 runs. Rose Hall Canje made 160 all out, with Aviskhar Persaud's 30 and Demitri Griffith's 24 being the top scores. Travis Charles with 3 for 30 was the leading bowler for Paradise. Paradise were bowled out for 65, with only Travis Charles reaching double figures with 15. Satnarine Singh with 4 for 24, Isaiah Thorne with 2 for 15 and Travis Sinclair with 2 for 1 bowled well for Canje.
Scores in matches leading up to the Quarterfinals: At the Area 'H' Ground, RHT Pepsi 'A' defeated No. 73 Cricket Club by seven wickets. No. 72 Cricket Club made 123 all out in 32.1 overs. Karran Persaud made 36, and Rudy Jamaladin 35. Tyrese Sealey took 3 for 15, Lucas Arthur took 3 for 21, and Kevlon Anderson took 2 for 12.
RHT Pepsi 'A' scored 133 for 3 in 14.1 overs. Kevlon Anderson contributed 64, and Jonathan Rampersaud 33 not out.
At Port Mourant Ground, RHT Pepsi 'A' defeated Port Mourant Cricket Club by 247 runs. RHT Pepsi 'A' scored 307 for 7 from 45 overs, with Junior Sinclair contributing 114, Vikash Subramanie 37, and Kevlon Anderson 81. Rampertab Ramnauth took 5 for 33, and Mark Ramalho took 2 for 36. Port Mourant Cricket Club scored 60 all out in 19.5 overs. T. Sukhraj made 18, and Doorsammy Mahadeo took 4 for 28 from 8 overs. Tyrese Sealey took 2 for 12.
At the Area 'H' Ground, Albion Community Centre 'A' defeated RHT Pepsi 'A' by 7 wickets. RHT Pepsi 'A' scored 60 all out in 21.2 overs, with Jason Sinclair contributing 16, and Kevlon Anderson 28. Surendra Ramcharitar took 6 for 19, and Beesham Surujnarine 2 for 9. Albion Community Centre 'A' scored 61 for 3 in 15 overs. Jeetendra Outar scored 17, and Kevlon Anderson took 2 for 20.
At Rose Hall Canje Ground, Tucber Park 'A' defeated Rose Hall Canje by 7 wickets. Rose Hall Canje Cricket Club scored 80 all out in 29 overs, with Avishkar Persaud making 12, and Isaiah Thorne 20. Abdul Ramsammy took 5 for 12, and Melvin Singh took 3 for 24. Tucber Park Cricket Club scored 87 for 3 off 10 overs, with Anthony Williams making 14, Leon Swammy 25, and Zeynul Ramsammy 15 not out. Isaiah Thorne took 1 for 39 from 4 overs, and Sanjay Algoo took 2 for 18 from 3 overs.
This tournament which has been sponsored by several New York-based businessmen via the Albion Community Centre Cricket Club, is scheduled to be completed on Saturday October 19, 2019, with the finals being played at the No. 69 Ground in the Upper Corentyne area.