Following their acquisition of land in the ancient county of Berbice some eight months ago, the Guyana Football Federation (GFF) has finally begun work on a plot of land at Vrymen's Erven, New Amsterdam.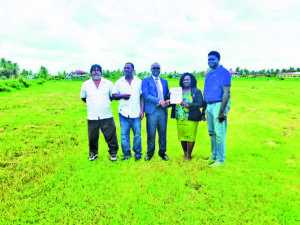 "The GFF is happy to announce that works on the Berbice Football association ground (BFA) which was secured on a 30-year lease through the NDC last year have commenced with drainage and surface repairs," A statement from the Federation stated.
When completely finished, the plot of land is expected to become the home of football in the county. In an invited comment, the GFF President Wayne Forde expressed pride at the Federation being able to commence the work and balance management of several other facility construction.
"I am very proud of the progress we have made in infrastructure. We have added approximately 12 acres of land to our portfolio for exclusive football development," he said.
"These are the fundamental priorities that will place Guyana's football on a sustainable development trajectory," Forde went on to state.
It was revealed that a short term goal of the Berbice Football Association (BFA) is to have the field ready for community use in the near future, before mainstream construction begins.
The facility at Vrymen's Erven will comprise of a full sized field, parameter fence, installation of lighting and construction of a football housing facility.