By Timothy Jaikarran
Amidst everything that is ongoing in the country, Marcel Crawford Jr, President of the Crawford Memorial Turf Club is hopeful that he will be able to host his annual horse meet on May 3,2020 after all the turmoil has ended.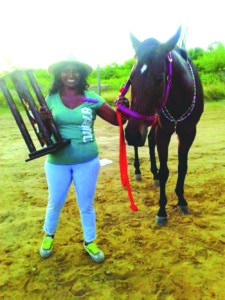 In an interview with Guyana Times Sport when asked his view on the hosting of the meet Crawford said, "I am very confident that this meet will be a success, I am hoping to have some of Guyana's top horses participating. I am extremely proud of Orion, who originates from the Crawford Stables. He has been training hard, and is most likely expected to come out on top in his event. Thus far, he has only lost a few races, and that was when he was still fresh, recovering from his injury."
The turf club president also noted that the event will feature 6 races on the card for the day. He further went on to state that in order for the event to be successful everyone must put aside their differences and show unity and support each other regardless of their political affiliations. In terms of business and sponsors coming on board at the club said, "Well that has been tough since 2016 mostly because of politics but we do have our regular honest sponsors, we need to educate ourselves. Guyanese needs to cut the nonsense and live with unity and respect for each other."
He also reiterated that what will make this day of activity on of the best patrons have seen for a long time is the simple fact that the Crawford Memorial Turf Club always provides fun and a fast racing surface. Besides its struggle of a small business trying to survive through racial tensions and red tape he noted that the club is moving from strength to strength.
Crawford has said he would like to thank all the fans and sponsors who have supported him over the many years, and is appealing to everyone to come and support the meet slated for May 3.