…gunmen use car to carry out robbery spree, 2 shot
Joshua Singh, a taxi driver attached to the Shamo Taxi Base at Vryheid's Lust, Railway Embankment, East Coast Demerara (ECD), was, in the wee hours of Thursday, rescued by Police and taken from the trunk of his car, which was hijacked by bandits.
Following his ordeal, the young man told investigators that he was in the driver's seat of his uncle's car, PSS 2705, when he was approached by three men, one of whom pointed a gun at him and ordered him out of the car.
Fearful for his life, he complied, and the men ordered him to go into the trunk of the car, where they locked him in.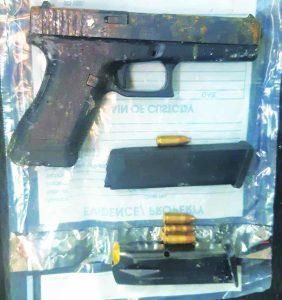 He recalled that the car drove off, then after some time it stopped, and he heard talking, then it continued to drive. He said that soon after, the car crashed into something, and thereafter he heard loud explosions, suspected to be gunshots.
The Police have said that ranks at the Brickdam Operations Room received a telephone call at about 02:59h, stating that motor car PSS 2705, a white Allion with several persons inside, had committed a robbery on Lamaha Street, Georgetown.
As a result, anti-crime patrols were alerted, and one of the patrols observed the motor car in question driving along the Agricola Access Road. That anti-crime patrol attempted to intercept the vehicle as it reached the Two Brothers Gas Station, but it sped away, resulting in the patrol pursuing it.
According to the Police, the car was travelling at a fast rate of speed when it suddenly made a turn onto Hunter Street to head in the direction of Mandela Avenue. The driver reportedly lost control of the vehicle, and it collided with the barriers and came to a stop.
Four males then exited the car and began to run away from the scene. "Immediately thereafter, loud explosions – suspected to be gunshots – were heard coming from the direction where the suspects were running, thereby causing a rank to discharge a round in the said direction where the suspected gunshots were coming from," a release from the Police said.
Other anti-crime patrols arrived shortly after, and a search was conducted in the area, during which Rawle Franklin, a character known to the Police, was seen lying on the parapet bleeding from injuries he had sustained, while his accomplice Andrew Newyear was seen lying in a nearby yard with injuries.
The two other suspects – Emmanuel Hale and Hamza Samuels – were found hiding in another yard.
The Police have said they recovered from the scene, a 9mm pistol with a magazine containing three live rounds of matching ammunition.
Franklin and Newyear were escorted to the Georgetown Public Hospital, where they are both receiving medical attention under Police guard.
Meanwhile, as the anti-crime patrol ranks were conducting a search of the motor car, Joshua Singh, its legitimate driver, was found locked in the truck. Apart from Singh, the ranks found eight mobile phones, one laptop computer, and a female purse in the car.
Meanwhile, following their arrest, Hale, 18, and Samuels, 32, were questioned during which Hale claimed that on Wednesday at about 18:00h, he was working at a Kitty Public Road hotel when he was collected by Samuels, Franklin, Newyear and another man, Rosario Hudson.
They then travelled to Vryheid's Lust, ECD. At the time, Franklin, Samuels and Hudson were all armed with handguns. The men exited the car and walked up to a white motor car that was parked with the windows down. They proceeded to hold Singh at gunpoint and ordered him in the trunk of the said car.
They then entered Singh's car and drove to B Field Sophia. The others followed in Hudson's car.
Upon their arrival at Sophia, they handed over Hudson's car to one called "Foxy" after which Hale and Newyear joined the hijacked car. Hale further related that they drove to 10th Street, Cummings Lodge, where they robbed a male of a wallet containing $10,000 cash and a cellular phone.
The robbing spree continued, this time at Ogle, Airstrip Road where they held up 53-year-old Madan Ramdeo of Cummings Lodge and a female and relieved them of cash and cellular phones.
In addition, the crew drove onto Sheriff Street then to Campbell Avenue, Campbellville, where they robbed a 43-year-old businessman of Toronto, Canada, of a haversack containing cash, a cell phone and a passport.
Finally, the men proceeded to Lamaha Street, Queenstown, where they held another man who was sitting in his vehicle at gunpoint. He was relieved of a cellular phone and $25,000 in cash.
They then left Georgetown and headed to the East Bank of Demerara in search of more targets.
However, whilst in the vicinity of Houston, Greater Georgetown, they saw the Police patrol, and in a bid to escape, they drove into Agricola.
Hale further confessed that shortly after they came out of Agricola, and on their way to Georgetown, they were intercepted by the Police at Hunter Street and Mandela Avenue. Samuels also told the Police that he was armed with a handgun and since the Police were chasing them, he hid it in a yard.
As a result, he took ranks to the location in West Ruimveldt Housing Scheme, where a 9mm Taurus pistol along with a single bullet was found.
Meanwhile, Police then went to the home of 43-year-old Georgiana Grant of D Field Sophia, who is the mother of Hudson, where a search was initiated during which two magazines along with 16 live 9mm rounds of ammunition and twelve .32 ammunition along with three television sets, one HP laptop computer, four cellular phones and 2529 grams of cannabis were found and confiscated.
The Police are on the hunt for Hudson. Investigations into the incidents are ongoing.