Ronald Jairam, the driver who struck down an 11-year-old girl while she was using a pedestrian crossing at Grove Public Road, East Bank Demerara (EBD), was on Monday sentenced to six months in prison by Principal Magistrate Judy Latchman.
Jairam was slapped with three charges when he appeared at the Providence Magistrate's Court. He pleaded not guilty to dangerous driving, driving an uninsured vehicle and for being an unlicensed driver.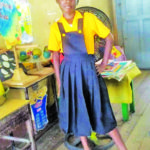 The victim, Adalia George, a Grade Six student of the Soesdyke Primary School, was hospitalised for at least two weeks after the accident, and was recently discharged from the Georgetown Public Hospital.
It was reported that on Tuesday, November 19, George, along with her siblings, had just disembarked a minibus and were crossing the road.
A car had stopped to allow the group to cross, but as they were doing so, another car, driven by Jairam, failed to stop and as a result, the vehicle hit the schoolchild. Jairam was reportedly going at a fast pace.
After the accident, the child's siblings immediately rushed to her aid. Without hesitation, the driver of the car picked her up and rushed her to the Diamond hospital, where she was treated and referred to the Georgetown Public Hospital to which she was admitted.
The driver was subsequently taken into Police custody and charged. The child is set to write the National Grade Six Assessment (NGSA) next year.