Ranks of the Guyana Police Force and Prison Service conducted a routine search which led to them unearthing a number of prohibited items at the Mazaruni Prison, Region Seven (Cuyuni-Mazaruni).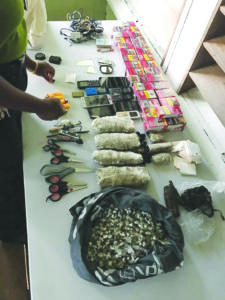 Some 1404 grams of cannabis, 11 improvised weapons, 59 packs of cigarettes, eight chargers, eight pieces of broken mirrors, eight lighters, 10 cell phones, three sim cards, two smoking utensils, six pairs of scissors and a quantity of bamboo and fronto were found during the search.
Smuggling of contraband has been an unending problem within the prison system in Guyana. As recent as August, a similar exercise was conducted at the Region Seven penitentiary during which a large number of prohibited items were also found.
These included: 11 bottles of pepper sauce, 13 lighters, five cellular phones, two cell phone batteries, 40 razor blades, three pairs of scissors, 17 improvised weapons, seven pieces of sandpaper, 15 nails, 10 mirrors, 15 metal spoons, seven packs of playing cards and 17 smoking utensils.
While, In Berbice, 1032 grams of suspected marijuana and 39 packs of cigarettes were found in the New Amsterdam Prison and a prison officer had admitted to conspiring with inmates to hide the contraband that was thrown over the fence.
During December last year at the Camp Street Prison, the following illicit items were found in the possession of inmates: 13 cellular phones, three cellular phone chargers, eight packs and 10 loose Bristol cigarettes, 21 cigarette lighters, 226 grams of suspected cannabis, small transparent zip-lock bags, a quantity of improvised weapons, and three hacksaw blades.
Director of Prisons (acting), Gladwin Samuels had disclosed in September that so far for the year, some 28 prison officers had been dismissed; 11 for facilitating or directly smuggling contraband into the prison system.
While the authorities have been struggling to curb the illegal practice, there has been a breakthrough in the apparent network among rogue prison officers. In fact, last year, several prison officers were charged and interdicted from duty; nine of whom have been charged either departmentally or criminally for trafficking-related activities.
Five other prison officers, who were relieved of their duties back in July after they were fingered in an incident whereby a parcel containing cannabis, had been thrown into the Lusignan Prison Holding Bay area.
Meanwhile, another prison officer at the Timehri penitentiary was taken into custody after he was implicated by an inmate regarding the presence of 584 grams of marijuana in the compound.