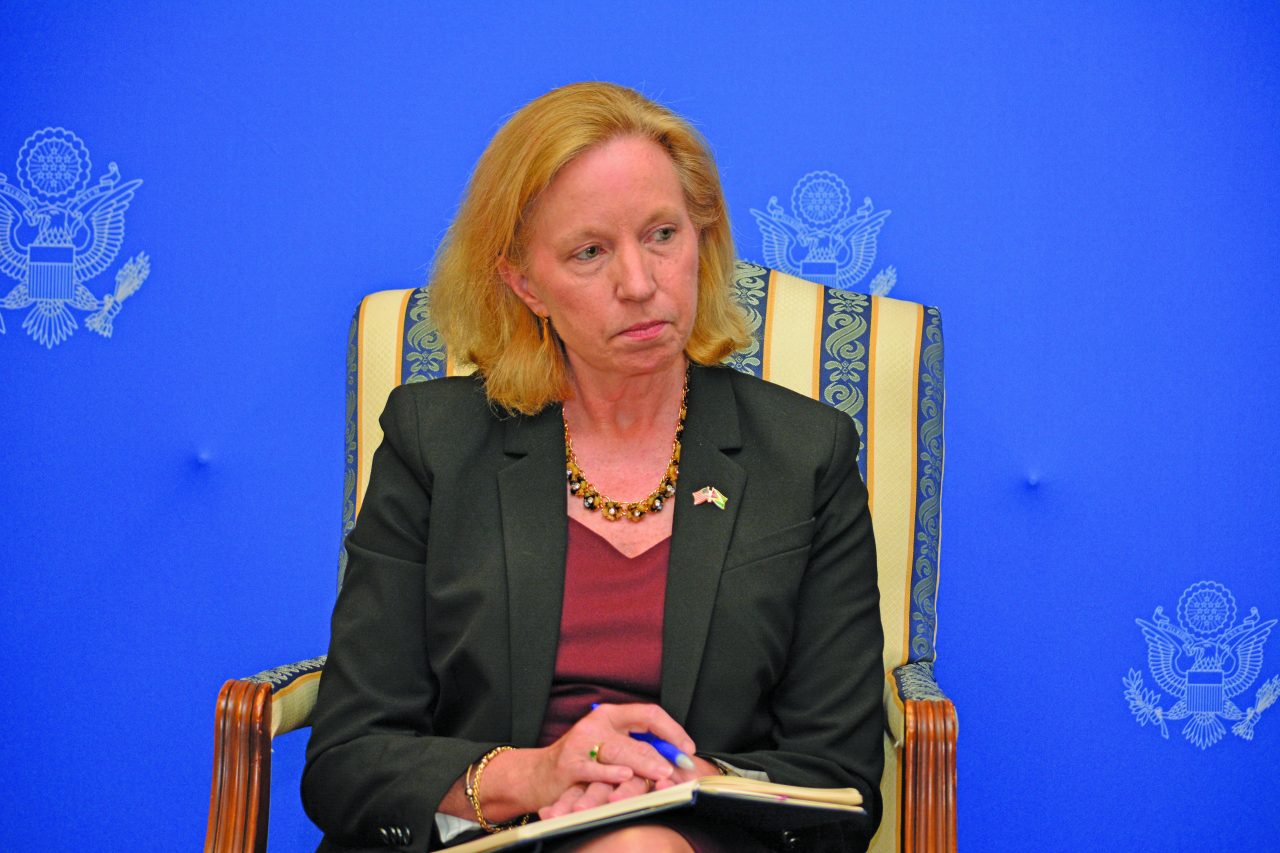 …says investors want predictability and stability
By Vahnu Manikchand
With Guyana on the cusp of becoming an oil producing nation, newly appointed United States Ambassador to Guyana, Sarah-Ann Lynch, believes the country can do better when it comes to the way business is being done here.
Over the years, Guyana has been ranking low on ease of doing business indices. In fact, the most recent report from the World Bank last November showed that there was a decline in investors' confidence here. The World Bank's 2018 Report rated Guyana 134 among 190 economies in the ease of doing business; eight places down from 2017's 126 global ranking. Previously, Guyana ranked 124th in 2016 and an all-time high in 2015 at 140. The country's best ranking was in 2008 when it was ranked a record low of 98.
Ease of Doing Business Index is one of the most comprehensive studies done by the World Bank, in which it looks at key indicators such as registering, compliance, taxation, obtaining loans and similar factors such as administrative procedures. It also looks at legal measures, such a protection and settlements.
According to Ambassador Lynch, although she has met most of the Private Sector-stakeholder bodies here since her arrival, she is yet to have "deep" discussions with them; but she noted that coming out of those engagements thus far, however, is the need for Guyana to provide a more conducive environment to do business.
"On the surface, there is some thought that Guyana could do a bit better on easing the way of doing business. So in other words, allowing businesses to start up quicker, faster and making the regulations less bureaucratic so that there are more opportunities for more businesses to get up and going quicker," Ambassador Lynch asserted during a sit-down interview with sections of the local media fraternity on Monday.
This, the US diplomat explained, would create an enabling environment not just for huge companies such as ExxonMobil – the US oil giant preparing to for production early next year having discovered some 5.5 billion barrels of oil offshore Guyana – but for smaller companies as well to thrive and develop with the potential to create jobs in the long run.
The Ambassador pointed out that generally, the Private Sector, in any country, usually wants stability and predictability.
"In my experience, the thing what most Private Sector want is stability and predictability so they can do their business… So those are very specific areas (and) I think it's something that Guyana should want and make sure that they do continue to make improvements and get a handle on (that), so that trade and investments can thrive here and I think that there is a great possibility that they can do that," she contended.
The US State Department's 2018 report has cited Guyana's minor improvements in curbing corruption, tackling crime and inadequate infrastructure as posing a hindrance in the local investment climate.
However, Ambassador Lynch, who was accredited just last month, said while no concern about corruption was raised during her interactions with the business community, both local and overseas, thus far, this is always an area of concern across the globe.
She referenced that the report did applaud Guyana for the positive gains made and the political will to address these issues, but simultaneously highlighted that there are more areas to work on. The US envoy pointed to what is referred to as 'barriers to trade and investments'. This includes corruption; security in terms of the existence of transnational criminal organisations – crime and violence; and the ease of doing business and transparency.
"So we look at those trade barriers holistically and we want to continue to work with the Government of Guyana to address all those. But I would say, it's not just the Government, citizens have a responsibility too.
So we also very much want to continue our work with civil society organisations, the Private Sector, all kinds of institutions and again, like we do all around the world, hold the Government accountable for being transparent, for being reliable, for delivering services to its citizens. So corruption, I would say is just one of the visions, that we're working on and that we have seen some progress there in Guyana," the US Ambassador stressed.
Negative impact
Recent events in the local political sphere has caused much unease among local Private Sector bodies. Many of these agencies have warned that the current political climate has been negatively impacting economic activities here.
But Government has dismissed this. In fact, President David Granger two weeks ago said that this was a "misinterpretation" of the situation on the ground, adding that it was "unfortunate" that the business community feels that way.
This gave birth to what many perceived as a public-spat between Government and the Private Sector, with the latter being accused of taking a political side with regards to the unsettled No-confidence Motion.
Asked during Monday's interview whether this was something raised during her engagements thus far, the US Ambassador responded in the negative.
"My involvement always, throughout my career as a Government official, with the Private Sector is doing what we can, especially for American businesses, to listen to their concerns and you know, help ease the doing of business in whatever country they're in and hoping that they are treated fairly in whatever country. So no, I certainly didn't discuss whatever political leaning people may have," she contended.
However, in the height of political uncertainty up until last month when the No-confidence Motion cases were in the local courts, several members of the diplomatic community here had also voiced concerns on the impact the political situation can have on potential investment opportunities.
Questioned whether similar feedback is being received from US investors looking to do business in Guyana, Ambassador Lynch's response again was negative. She explained that she has been predominantly talking to local businesses and US companies also on the ground here and this does not seem to be an issue right now.
According to the new US diplomat, her country will continues to encourage investments in Guyana especially now on the heels of first oil, which she reiterated, will only bring betterment for Guyanese.