Corona Beer Invitational Football Tournament
By Michelangelo Jacobus
When action in the Corona Beer Invitational Football Tournament continued on Monday evening at the Georgetown Football Club ground, Eastville FC scored two late goals to beat Flamingo 3-1.
In a fairly one sided game, Eastville were clearly the superior team throughout the match and opened the scoring after only four minutes in the first half with Michael Charles goal.
Flamingo would equalize 23 minutes later through Carl Sanmelo who poked home a rebound after the Eastville custodian fumbled the ball in the box.
As they teams went into the halftime on level terms, the score line failed to do Eastville justice as they should have had at least a two goal advantage with their forwards failing to convert the many chances that fell their way.
In the second half Eastville continued to play positively and with just two minutes left in the game goals were scored by Travis Hercules in the 88th and Cordel Johnson in the 89th which made sure that Eastville walked away with maximum points.
The second game of the night was played out to an entertaining 1-1 draw between Beacon FC and Camptown FC.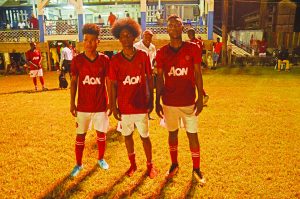 Both sides played fluid football with the respective defenses having their hands full.
Beacon would draw first blood through a spectacular Travis Lyken goal in the 7th minute but Camptown maintained their composure and stuck to the basics. They were duly rewarded when Jamal Codrington scored in the 36th minute to level scores.
The remainder of the game was a midfield battle and the game eventually petered out to a draw.
In the feature match of the night between home club GFC and Western Tigers, it was heartbreak for the former as they played well throughout the game only for Western Tigers to score in added time to equalize and draw the game.
The young GFC side played superior possession football complemented by smart, crisp passing. They were rewarded when a good team effort was finished by Benjamin Abumchi in the 16th minute to give them the lead.
GFC held on to that lead while the Tigers repeatedly tried to claw their way back into the game. Dwayne McLennon struck in the 93rd minute to draw his team level and walk away with a point.
When the competition resumes on Wednesday, Camptown FC will face Black Pearl FC at 17:00hrs while the in form Northern Rangers FC takes on Flamingo FC at 19:00hrs and Pele FC clash with Riddim Squad FC at 21:00hrs.