A father of one is now hospitalised at the Georgetown Public Hospital for trauma to the head and internal bleeding after a minibus slammed into him as he was crossing on the pedestrian sign at Eccles Public Road, East Bank Demerara.
Reports indicate that at approximately 18:30h on Thursday, Hafeez Sattaur, 33, of Eccles Housing Scheme, EBD, was struck by the speeding minibus, bearing registration BPP 8292, and reportedly landed several metres away.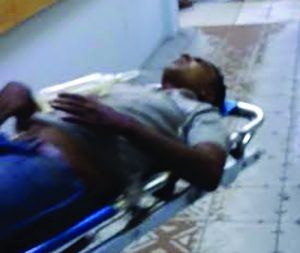 A traffic officer, who was on duty in the area at the time, quickly assisted the injured man into the said minibus and took him to the Diamond Diagnostic Centre (Hospital).
Speaking to Guyana Times from the medical facility, the injured Sattaur recalled that he was crossing the road to approach the traffic officer on duty, when he was hit. He could not recall much of that transpired after.
However, the traffic officer was overheard explaining to the man's family that he 'was calling the traffic' which was coming from Georgetown when Sattaur began crossing the road.
"I was calling the traffic, and it was moving fast. The traffic wasn't heavy but the vehicles were moving fast, and I see him walking over," the officer related.
Sattaur was subsequently transferred to the Georgetown Public Hospital since according to doctors at the Diagnostic Centre, the facility was not equipped to treat the injuries the man sustained.