… Tough day for athletics
The pair of Natalie Cummings and Chelsea Edghill have progressed to today's Round-of-16 matches, and they are to face New Zealand's Chunyi Feng and Yangzi Liu.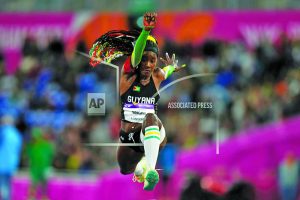 The duo remains Guyana's last hope of booking a spot on the podium in tennis at the Commonwealth Games, following their Women's Doubles Round-of-32 victory over South Africa. They were able to win their round 3-1 with scores of (11-3, 11-7, 9-11, 11-8).
In the Men's Doubles Round-of-16, Christopher Franklin and Shemar Britton were not that lucky. Franklin and Britton held their own against Nigeria, but lost 1-3 (6-11, 6-11, 11-9, 5-11). This was also the country's first time playing in the Men's Doubles Round-of-16.
Coach Idi Lewis, bemoaning the lack of funding for the sport, believes that if they were given enough resources to properly prepare, things would've been better – a conviction with which Natalie Cummings wholehearted agrees.
"Funding! We keep saying it! Funding is so important! Equipment on time, better facilities. We need a home for Table Tennis. For me, setting a benchmark top 16, I don't think is the best we can do, but it sets a precedent that we can do better," the candid 'lefty' has said.
Cummings added, "If we're at home training and we got this far, (how much better would we have done with) more support thrown towards us. I think we can do much better.
"As Idi said, we're not supposed to be here, but we're here showing everyone, showing Guyana, that just give us the opportunity and we're going to do things," Cummings said.
Athletics
In athletics, Chantoba Bright had a season's best leap of 12.97 metres, but it was never going to give the Kansas State University athlete a chance at a podium finish on another shivering-cold night of track and field action at the Alexander Stadium.
Aliyah Abrams and Kenisha Phillips ended their campaign at the Commonwealth Games by exiting in the semi-finals of the Women's 400m and 200m respectively. Abrams crossed the finish line in sixth place with a time of 52.82s, her performance certainly not being the result she was hoping for.
And yesterday's run of 24.39s in Heat Two of the 200m brought the curtains down on Kenisha Phillips's season.
It has all come down to the Men's 4X100M relay team of Noelex Holder, Emanuel Archibald, Arinze Chance and Akeem Stewart to salvage some pride for the Guyanese track team in England's second largest city.