…to tackle drug use in schools
The Education Ministry will be working along with the International Narcotics Control Board (INCB) to clamp down on the use of drugs among students in schools across Guyana.
A team from INCB, comprising Stefano Berterame and Dr Raul Martin del Campo Sanchez, met with Chief Education Officer (CEO) Marcel Hutson and other senior officials of the Education Ministry on Thursday at the Brickdam boardroom.
During the meeting, the two parties discussed how they can work together to eradicate and mitigate drug use in schools across the country. Further, the INCB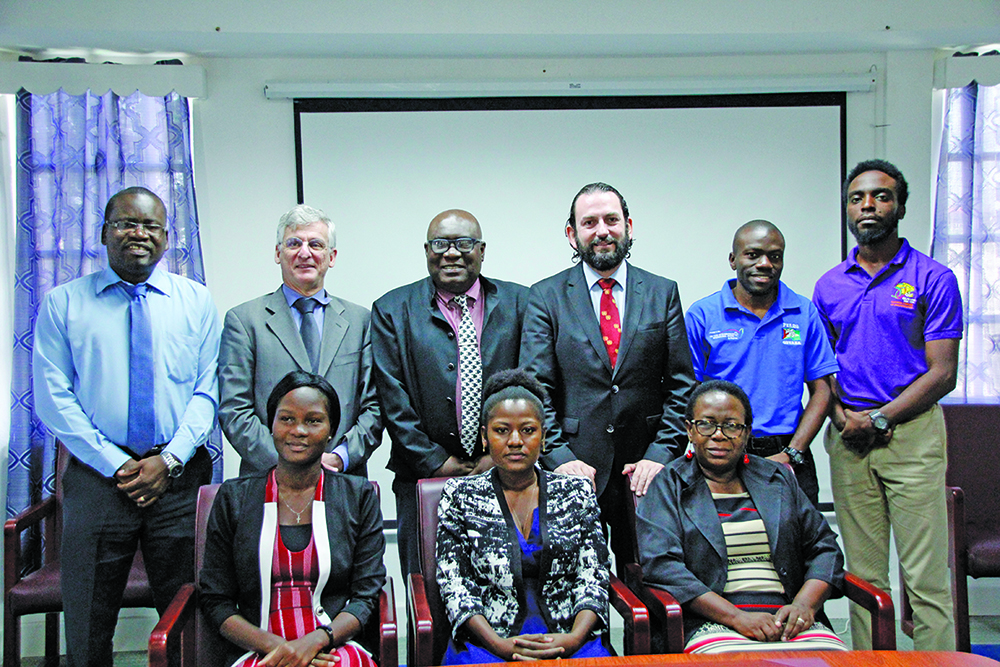 wanted to be apprised of where the Ministry was with regard to the Drug Production and Trafficking Legislation.
According to the INCB officials, such feedback is necessary so that they can proffer advice and make recommendations to the Education Ministry where necessary.
It was further revealed during the meeting that 39 teachers from 20 schools within Georgetown have been trained to integrate drug prevention training and strategies within the existing curricula for secondary schools.
In 2017, the focus was mainly on conducting sensitisation sessions in schools that were vulnerable to drug use.
Currently, the Education Ministry is working out the modalities to address referral protocols and preliminary screening for students and teachers who are suspected drug users. The Pan American Health Organisation (PAHO) and the World Health Organisation are currently assisting the Ministry with this process.
A study conducted in 2013 on the prevalence of drug use among secondary school students in Guyana has revealed an alarming trend showing that students as young as 12 years old are engaged in the use of both licit and illicit substances.
The Secondary School Drug Prevalence Survey Project was done by the Organisation of American States (OAS) Inter-American Drug Abuse Control Commission (CICAD), in collaboration with the Government of Guyana. Some 1890 students from 28 schools participated in the study – 92.5 per cent from public schools and 7.5 per cent from private schools. These students were from Grades 8, 10, 11 and Sixth Form. Approximately 43.8 per cent of the participants were between the ages of 11 and 14.
The report indicated that alcohol, cigarettes, inhalants and marijuana were the most commonly used drugs among the student population. It was noted that 19 per cent of the students have admitted using an illegal drug at least once in their lifetime, while 52 per cent said they have consumed alcohol. However, the findings showed that there was a higher prevalence of drug use among private school students.
The following percentages of participants also admitted to using these other drugs once in their lifetime: 10.8 per cent of the participants admitted to having used inhalants/solvents; 16.8 per cent used tobacco; 6.6 per cent used marijuana: 3.2 per cent used tranquilisers; 1.6 per cent used ecstasy and 1.4 per cent used cocaine. Eighteen per cent of these students are from public school, while some 24.5 per cent are private school students.
However, 7.6 per cent of the students said they have tried an illegal drug for the first time within the past year (dated from when the survey was done). More alarmingly, it was outlined that students as young as 10 years, eight months are using inhalants, while those 12 and above were using substances such as alcohol, cocaine, and marijuana.
Most of the students said they usually get alcohol from shops, while marijuana and cocaine were acquired from friends and relatives. Moreover, marijuana was found to be the most accessible illegal drug, while cocaine was the least accessible.