With Guyana's 49th Republic Day anniversary approaching, the Education Ministry on Friday launched its Mash band which will take to the streets of Georgetown on February 23 in a bid to capture the top prize.
The launch was held at the Ministry's Brickdam office in the presence of Education Minister Nicolette Henry; Director of the National Centre for Educational Research Development, Jennifer Cumberbatch; Head of the Unit of Allied Arts, Lorraine Barker-King and other education officials.
The Education Minister explained that they have incorporated the concept of STEAM – Science, Technology, Engineering, Arts and Mathematics – in their band and moreover, the classroom environment.
"This is part of a larger drive by the Ministry, particularly in the area of Science, Technology, Engineering, Mathematics and the Arts more recently this definitely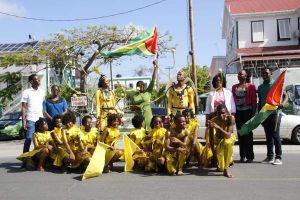 depicts the arts," said Henry.
According to the designer Neilson Nurse who represents Nandre's Kreations, some 50 revellers will be participating in the respective categories.
He said the sparkling gold and black costumes showcases the country's oil sector, robotics and the use of technology in education.
"The whole idea is trying to bring out robotics and the importance of education technology. Black is one of the colours you use when referring to technology and because we're rediscovering El Dorado, we decided to go with a bit of gold."
Meanwhile, Lorraine Barker-King of the Unit of Allied Arts emphasised on the importance of arts in the education sector, in bringing balance in learning.
"The Ministry of Education is a strong advocate of the arts, as well as a trailblazer and this is evident in having a unit which promotes the expressive arts and physical education," said Barker-King.
This year, 39 activities were scheduled to mark the Republic anniversary celebrations, held under the theme "Celebrate Mash 2019; With Victory in Mind – Rediscovering El Dorado".
Meanwhile, a chutney dance competition is expected to excite patrons over in Region Three (Essequibo Islands-West Demerara) at the National Track and Field Centre also on February 9.
The Rosignol Stelling Road in Region Five (Mahaica-Berbice) will be the venue for this year's semi-final of the Chutney Song Competition on February 10.
Other exciting events are expected to take place within the month of February, including the Children's Costume and Float Parade at the National Park and the Carib Soca Monarch final at D'Urban Park; both on February 16.
This year the Masquerade Jamboree will be held at the Stabroek Square on February 21.
The flag-raising ceremony will be hosted on February 22 to usher in the Costume and Float Parade on February 23.
The Mashramani festivities do not end on February 23 this year, as a Champions in Concert is slated for March 9, in Mahdia, Region Eight (Potaro-Siparuni).