…largest batch of trained teachers in the history of college
…Rose Hall student best graduating student
The education system will be bolstered with the introduction of 843 new trained teachers for the early childhood to secondary levels – all graduates from the Cyril Potter College of Education (CPCE).
The new teachers were certified during the 87th Graduation Exercise of the CPCE on Wednesday. This is the largest graduating batch of trained teachers: 198 in early childhood, 404 for the primary level and 241 for the secondary level. It represents a gender distribution of 86 per cent females and 14 per cent males. Of the graduates, eight per cent attained the level of distinction, 90 per cent credit and two per cent pass.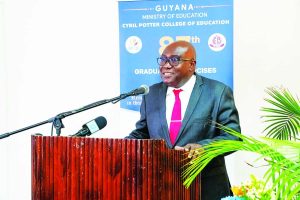 A breakdown of graduates showed 12 per cent hailing from Region One, 11 per cent from Region Two, 12 per cent from Region Three, 26 per cent from Region Four, six per cent from Region Five, 11 per cent from Region Six, five per cent from Region Seven, two per cent from Region Eight, nine per cent from Region Nine and six per cent from Region 10.
Meanwhile, 29 per cent of students specialised in Mathematics, 20 per cent in English, 14 per cent in Agriculture Science, 12 per cent in Business Studies, seven per cent in Industrial Technology, five per cent in Home Economics, four per cent in Science and Social Studies respectively, three per cent in Information Technology and two per cent in Spanish.
Principal Dr Viola Rowe in her report titled: "Remaining Steadfast and Determined in This New Dispensation of Education" pointed out that the institution has, over nine decades, experienced several transformations. Today, a hybrid approach is used for teacher education delivery in light of COVID-19.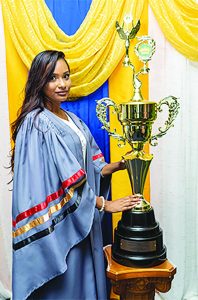 During the pandemic, she said it was a "trying time" for the college but it adopted a flexible and robust mechanism with the use of technology to continue operation, moving completely online supported with continued classroom activities.
The Education Ministry's aim to move the 73 per cent trained teachers in the system to 100 per cent by 2023, has resulted in increased applications at the college.
Identifying the challenges, Dr Rowe pointed out that staffing was inadequate to respond to large student intake, and support staffers were employed for the online department. This also resulted in financial constraints. A diagnostic team was also deployed to assess if the college was capable of operating in the new dispensation of education. This report is yet to be finalised.
"The overwhelming demand for teacher education by untrained teachers in the system and persons desirous of pursuing teacher education put a substantial financial strain on the college's 2021 budget. This financial constraint affected, for instance, the timely payment of stipend for the April 2021 cohort, while their peers (the graduates) were paid in full," she indicated.
Another setback is connectivity in far-flung areas with the adoption of online classes, as well as technological gaps at the centres. As admission and demands increase, the principal signalled the need to attract quality staff – both locally and abroad – especially since it is poised to become a four-year university college.
However, she acknowledged, "The attraction of quality staff has implications for a revised remuneration package considering the institution's operations in a new education dispensation. The college traditionally was a three-year post-secondary institution based on entry requirements of four CSEC subjects matriculation. In 2010, with the introduction of the Associate's Degree gained higher education recognition…We strongly believe that with capacity building, improved quality assurance systems, improved college profile, a commitment to education research for publication and tenure, the college is poised to become a four-year teacher university college."
Meanwhile, Chief Education Officer, Dr Marcel Hutson outlined that these graduates will complement the school system and ease the weight of current teachers in the workforce. He projected that at some point in the future, the reality will be two teachers per classroom.
Hutson regarded the college as a vanguard of the education system, insisting that efforts must be made to enhance its operations and prestige.
He highlighted, "We could very well move along the Finland Model where we have at least two teachers in the classroom and that is the projection at some point in time to deal with our students who may very well have learning difficulties. We are in good standing as we move in this particular direction."
The President's Award for Excellence was awarded to Best Overall Graduating Student, Jessica Seeraj from the Rose Hall Centre as she completed the Associate's Degree in Education.
The College's nineteen centres remain in operation across all regions. This academic year saw 2664 first-year applicants with the overall student population being 3479. (G12)