The Caribbean Examinations Council (CXC) has announced the 2021 top awardees for the Caribbean Advanced Proficiency Examination (CAPE) and the Caribbean Secondary Education Certificate (CSEC) examinations, with Guyanese students Samuel Haynes and Zaynab Shaffie receiving the respective top award for both.
Guyana secured several of the regional awards from the Council. Overall Outstanding Achievement at the CSEC level was awarded to Zaynab Shaffie of Queen's College, who secured 18 Grade Ones and two Grade Twos.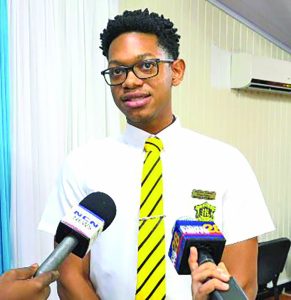 Samuel Haynes of Queen's College received the Overall Outstanding Achievement for the Caribbean Advanced Proficiency Examination (CAPE) after securing nine Grade Ones at the examination.
At the CSEC level, Roshni Samaroo of Queen's College won the top Humanities Award, Naresh Jagnanan of the Essequibo Islands Secondary School won the top Business Award, and Sarena Razak of Queen's College won the top Technical Vocational Education Award.
Among other Caribbean students of the ACCA CSEC Accounting Awards, Riley Nurse of Queen's College and Saalih Rahim of the I.S.A Islamic School were recipients.
Other CAPE awards included Crystal Benjamin of the Bishops' High School securing third place in the Association of Chartered Certified Accountants (ACCA) CAPE Accounting Awards, and Abdul Subhan of the St Stanislaus College copping the CAPE History Award.
In a statement, the Education Ministry said it "regards these students' achievements as significant, particularly because they were able to perform exceptionally well despite the challenges posed by the COVID-19 pandemic".
Some 9,808 candidates were registered for the CSEC 2021 examinations, as compared to 12,009 registered for 2020. Subject entries for 2021 were 61,437. An analysis of the 2021 preliminary results revealed that the overall pass rate at the General and Technical Proficiencies for Grades One to Three was 66.36 per cent. Some 20 subject areas out of a total of 33 have seen top performances for the region.
At the CSEC level, Guyana scored higher than the regional average in Integrated Science, Electronic Document Management and Preparation, Office Administration, Information Technology, and Human and Social Biology. Performance was lower than the region for Mathematics, Chemistry, Principles of Business, and Social Studies.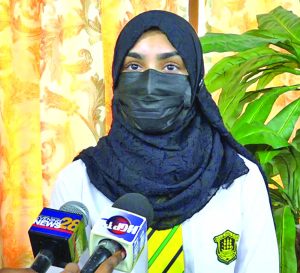 Some 20 subject areas have seen top performances for the region, with 70 per cent acceptable grades for CSEC. Last year, there was a reduction in the School-Based Assessment (SBA) requirements by as much as 50 per cent in some instances. The requirements for specific subjects were also reduced due to the prevailing COVID-19 circumstances, specifically for modern languages.
In May/June 2021, some 723 candidates from 10 secondary schools and four private centres wrote CAPE in Guyana. A total of 88 per cent of students received acceptable grades, higher than the region's 87 per cent.
The overall pass rate in 2021 was 90.86 per cent; while the gender distribution of the overall passes is 36 per cent males and 64 per cent females. For CAPE, 30 units saw candidates obtaining a 100 per cent pass rate for Grades One to Five, and 75 per cent passes across another 28 units.
A percentage scale shows that 92 per cent students attained acceptable grades for Caribbean Studies; 97 per cent for Communication Studies; 96 per cent for Sociology Unit 1; 96 per cent for Sociology Unit 2; 95 per cent for Law Unit 1; 96 per cent for Law Unit 2; 80 per cent for Integrated Mathematics; 59 per cent for Pure Mathematics 1; 75 per cent for Pure Mathematics 2; 84 per cent for Chemistry Unit 1; 95 per cent for Chemistry Unit 2; 90 per cent for Biology Unit 1, and 97 per cent for Biology Unit 2.
In the exams, Guyana had secured higher performances than the regional average. These scores come amid 2020's debacle, wherein a total of 20 schools in fifteen subject areas had received ungraded results and subjects. Those revelations had sparked widespread public outrage, with other students demanding answers from the examinations body as those relate to the poor grades assigned. Over 11,400 were then resolved by CXC. (G12)