Seventy-two-year-old Ramsahoye Deochand, who was brutally beaten by his son's employer and three others in the wee hours of Sunday last at his Strathspey, East Coast Demerara home succumbed to his injuries while receiving medical attention at the Georgetown Public Hospital.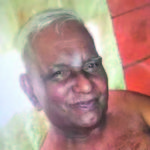 This was confirmed by the man's grandson, Randy Deochand, who confirmed that his grandfather took his last breath at about 01:00h on Tuesday morning.
It was reported that the now dead man's son, while being employed at a business in Strathspey, ECD, reportedly stole an undisclosed sum of money and a gold chain belonging to the owner.
He was, however, confronted by the boss and others and was severely beaten. Ever since, he has gone into hiding, leaving his father at the mercy of the men.
However, at the home of the dead man on Tuesday, his wife, Farida Deochand, explained that on the night of the incident, she and her husband were awakened by sounds of breaking glass and as they went to investigate, they saw the four men throwing objects at the windows.
"They pelt the window, break it up, then they come in here, they break up here… the door only have one bolt and I put on an iron bar on the door. They come and they start to kick up the door shouting open the door, open the door. Well me in open no door, he come through the window and he open the door and they start beat up he father. I beg them and say you all don't beat he because he ain't well", she explained.
Gavin Ramsahoye, the man's son, and Taijwattie Bhanwanie, along with their one-year-old baby were also at home at the time of the incident. They reside at the bottom flat of the house.
Farida also related that when she begged the men to have mercy on her sickly husband, they placed a gun to her head and instructed her to "shut up".
"They tell me if me nah talk weh me son deh, they gon shoot meh and kill meh. I beg them, they slap me four slaps, they push me in meh bedroom and meh bend down and beg them not to beat me or beat meh husband anymore. They left and go away and meh call me son from downstairs. He left and get away, he left and go away and hide", she said.
However, the now dead man suffered a stroke to the right side of his body seven years ago and could not move without the support of his family. He was beaten with a mop stick about his body and was hit to his head with an amplifier.
Meanwhile, the widow has confirmed that she has not seen or heard from her son, who is accused of stealing the items since he left home on January 15.