COVID-19 vaccination has been opened for children within the ages of five and 11, and advisor to the Health Minister, Dr Leslie Ramsammy is urging guardians to ensure that this cohort is protected against the virus.
During the arrival of vaccines on Friday, the former Health Minister underscored, "Take advantage of the booster shots. We have already started vaccinating the children five to 11 and we hope that people will bring their children. We are very proud that Guyana has a full COVID-19 vaccination programme in play."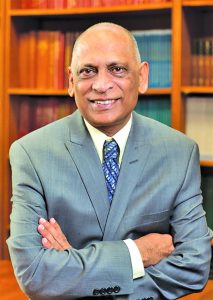 Dr Ramsammy pointed out that Guyana has seen tremendous success in its vaccination efforts, but this is linked to partnerships to ensure vaccines are available to the population, as well as initiatives to get people immunised.
"Guyana has completed close to 410,000 first dose vaccines for adults. At the same time, we have been able to administer close to 30,000 first doses to the adolescent population…At the moment, 80 per cent of adults have received at least one dose of a vaccine and at least 56 per cent of our adult population are fully vaccinated. It's because of partnerships that Guyana has reached impressive numbers."
A few weeks ago, the United States Food and Drug Administration (FDA) granted emergency use authorisation for the Pfizer-BioNTech to be administered to children between the ages of five and 11. On November 2, 2021, after a systematic review of available data, the Advisory Committee on Immunisation Practices made an interim recommendation to use the Pfizer-BioNTech COVID-19 vaccine in children in the United States for the prevention of COVID-19.
The double-dose vaccine has an efficacy of about 95 per cent and is one of two vaccines approved for children by the US Food and Drug Administration (FDA).
When the campaign started in Guyana, only children above the age of 12 were eligible for the vaccine. Guyana is using the Pfizer jab to inoculate its adolescent population (12 to 17) along with pregnant and breastfeeding mothers.
In total, Guyana has received some 1.2 million vaccines from Pfizer, Sinopharm, AstraZeneca, Sputnik V; and Johnson and Johnson. There were donations of 3000 doses of the AstraZeneca shot from Barbados, 20,000 Sinopharm doses from China, 84,000 AstraZeneca doses from the United Kingdom and another 80,000 doses of the AstraZeneca vaccine from India. The country also utilised some 146,250 Pfizer-BioNTech jabs to immunise the adolescent population and pregnant women, after a donation was sent from the United States Government.
Government had procured 400,000 doses of Sputnik V vaccines from Dubai and another 100,000 doses of the Sinopharm vaccine from China.
Back in May, Guyana also made a down-payment of approximately US$7.5 million to the African Union for 150,000 doses of the Johnson and Johnson jab.