In an effort to promote harmony and good relations across Guyana, the Ethnic Relations Commission (ERC) launched its "I Am Us" movie at the Giftland Mall on Wednesday evening.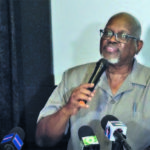 The Commission, which is mandated to promote unity across the various ethnic groups and address racial discrimination, believes that the movie is in keeping with its constitutional mandate to promote harmony and good relations, as it is vital in helping to enhance the environment to foster unity among all Guyanese.
ERC Chairman, the Reverend Dr John Smith, in his address at the launching ceremony, appealed to the public to support the film.
"Our main aim and hope is to continue to try and foster harmony among the six races in our nation. I trust that when you see, you will be affected by what you see and you will become an ambassador for peace and you will try and ensure that we all live in harmony in this dear land of Guyana," Dr Smith noted.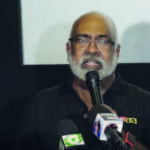 Representing the Government was Social Cohesion Minister, Dr George Norton, who applauded the Commission's efforts, especially during the election period.
"I believe the airing of "I Am Us" will further boast the efforts of the Department of Social Cohesion in fostering peace and maintaining harmony within our borders and not just during elections but especially at elections time," he remarked.
Writer and producer of the movie, Neaz Subhan, who is also a Commissioner of the ERC, is hoping that after watching the movie, everyone would become a peace ambassador.
"I wrote this play four and half years ago and I wouldn't say anything about the story line because I want the film to speak about the story and I do hope as Guyanese who are committed to a particular cause, each and every one of us who are Guyanese would become an ambassador of peace and become a commissioner or an extended commissioner of the ERC to spread this message," Subhan noted.
The ERC was established as a constitutional body by Constitutional Amendment (2) Act of 2000, which was assented to by the then President on August 11, 2000. It was recently reconstituted in April 2018.
The Commission is also mandated to promote equal access by persons of all ethnic groups to all public or other services and facilities provided by the Government or other bodies.