Acting New Amsterdam Mayor Rayworth McIntosh has reprimanded residents of the town for illegal dumping of garbage and urged that they desist from doing so.
During a recent visit to the Glasgow New Housing Scheme, the acting Mayor related that there were two sites in the community which residents have turned into dumpsites.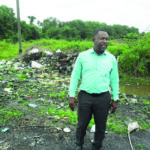 This practice, he pointed out, had forced some residents to leave their homes during the Christmas season.
"Following up on several reports made by residents of Glasgow New Housing Scheme, it is very disappointing and very disturbing," the acting Mayor said as he referred to complaints from residents.
He urged stakeholders to desist from the habit of dumping garbage indiscriminately.
"You must have a receptacle. Every household must have a receptacle to place your garbage into. The Council will be servicing those bins," he said.
According to McIntosh, persons would travel to the locations and dump their solid waste which was totally unacceptable.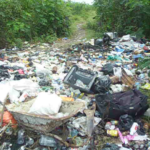 "I am appealing to the general public; this is not a dumpsite. Persons are living here. Out of respect and care for the environment, we are asking of you, please cooperate with us, because we do not want to go down that road of fining persons once they are caught dumping their garbage here," he said.
He further noted that it was not the workers of the municipality who have been dumping garbage at Glasgow New Housing Scheme but rather the residents and urged them to act in a more responsible manner.
In the past, many residents have complained that the municipality has not been collecting solid waste from their homes. In fact, some persons reported that two months have passed and the Council's garbage collection crew had not visited their home.
According to the acting Mayor, that was something of the past.
"When the Council comes around, if the gate is locked, we cannot access those premises in order to empty the garbage. There is a schedule set by the Mayor and Town Council as to when and where the garbage collection crew will be."
McIntosh says that information will now be posted on the Council's social media page.
In the past, the Council had defended its slothfulness in removing solid waste from homes of residents in New Amsterdam as owed to inoperable equipment.
However, the Council had also reported that it had been difficult to acquire replacement parts for the machines. But the acting Mayor posited that those issues have all been rectified.
"During 2019, we would have corrected those deficiencies: at the Engineer Department we would have employed a mechanic to adequately service the municipality's machinery. So, if by chance there is some downtime, the downtime will not be long, as used to be in 2019," the Deputy Mayor assured.